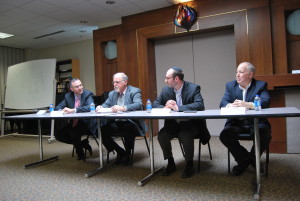 On February 19, the Hyman Brand Hebrew Academy (HBHA) upper school held a panel discussion with four rabbis. Each rabbi was from a different synagogue and each represented a different movement in Judaism. Rabbi David Glickman from Congregation Beth Shalom represented the United Synagogue of Conservative Judaism (USCJ). Rabbi Rick Shapiro from Congregation Beth Torah represented the Union for Reform Judaism (URJ). Rabbi Daniel Rockoff from Beth Israel Abraham and Voliner (BIAV) represented the Orthodox Union (OU). Lastly, Rabbi Jeffrey Shron represented Kehilath Israel Synagogue (KI), which is traditional in style and is unaffiliated with a movement. The four rabbis came together, sat on a panel, and answered questions from the students. A week prior to the panel, high school students wrote questions that were given to the rabbis for them to prepare for the panel.
The panel started with each rabbi talking about why they wanted to join the rabbinate. Each told his story and gave a little personal background as well. Each rabbi also gave a little insight to the basic theology of the movement they represented. They then started answering questions.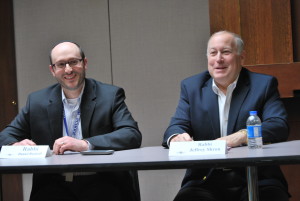 Of the topics mentioned, same-sex marriage brought the most controversy. The answers varied to a surprising extent. Rabbi Rockoff said the the OU does not officiate or provide marriages for gay people because the original definition of marriage is a union between a man and a woman. Rabbi Glickman and Rabbi Shapiro, however, said that both the USCJ and the URJ have not yet come to one decision.  Both movements have been struggling with this issue for years, and a solution has not yet been reached, which leaves an opening for each individual rabbi to make their own choice as to whether or not to officiate.
Some other questions that were asked were more basic. They each spoke about the way that the laws of the Torah should be observed now. This included the extent to which we should follow the mitzvot, and what the mitzvot actually mean in modern times. The four also touched lightly on the Messiah and the Messianic Age, but the hour ran out before that topic could be discussed in depth.
True to the stereotype that Jews argue all the time, there was arguing. There were several disagreements on the topic of LGBT marriage and on the topic of mitzvot. However, they did not argue on the topic of the Messiah because there is nothing that anyone can do but guess. There were several other points on which that two of the four agreed, but the others did not.
In general, it was a beneficial program. Not just because the high school got to learn about Jewish thought now, but because we got to actually be a part of it. Each program like this helps us figure out what our own opinions are, and that is one of the most crucial parts of being a Jew.