New members of National Honor Society at HBHA
National Honor Society (NHS) was established in 1921 to identify and acknowledge outstanding high school students who have shown greatness in areas of scholarship, leadership, service, and character. To this day, these characteristics are still associated with the organization. NHS grew to 1,000 chapters by 1930, and today it is estimated that more than one million students participate in NHS. Chapters can be found in all 50 states, many United States territories, and Canada. NHS students are challenged to continue developing through involvement in school activities and community service.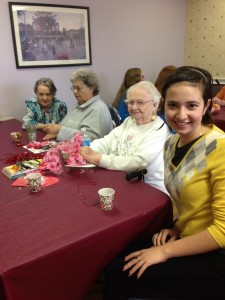 Students at Hyman Brand Hebrew Academy (HBHA),  are invited to apply to Maimonides chapter of NHS if they meet the criteria laid out by the national board, which includes having at least a 3.5 GPA, filling out a student activity form, and providing teacher and supervisor recommendations. The students are then chosen by an anonymous faculty council. For the past five years, the NHS chapter advisor at HBHA has been Mrs. Laura Hewitt, Director of Testing and Teacher Development, and during this time she has led 45 different students.
Mrs. Hewitt loves "that students want to help others less fortunate than they are." She added "They are eager to dig into work that others may be too scared to do." She says the HBHA chapter generally has eight to twelve students every year, some of whom are inducted in their sophomore year and others in their junior year. Senior Moriah Abrams, has been in NHS for the past two years and has loved, her "favorite of which is volunteering at retirement homes and interacting with the residents."
This year, the HBHA NHS chapter has gone on a field trip about once a month. The students have worked with an organization called the Phoenix Family, a group that helps support low income families. During their field trips, the students have visited a senior citizen housing in order to throw parties. When it is time to leave, neither the students or the senior residents want to say goodbye. They have also worked in a community garden, food pantries, and clothes closets.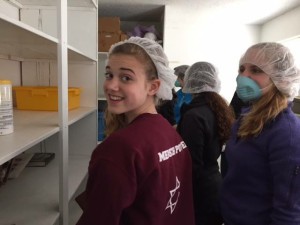 This year, two HBHA students will be inducted into NHS during a ceremony at the end of the year: sophomores Leah Sosland and Alexis Davis. Sosland is "very excited to have been accepted into NHS. I especially look forward to having the opportunity to do more hands-on work with the people in my community."