A Fair to Remember: Lower School Students Celebrate the Joy of Reading
Elana Goldenberg
May 15, 2015
On Monday night, 20 Apr., Hyman Brand Hebrew Academy (HBHA) lower school students and their parents gathered at school for the second annual Reading Fair. Elaborate boards were on display throughout the hallway as students dressed in pajamas proudly presented books to classmates, siblings, and parents. The exciting evening highlighted and celebrated the joy of reading.
Reading Fair is a recent addition to HBHA's lower school events. The new tradition was born two years ago after Lower and Middle School Principal Dr. Jessica Kyanka-Maggart "had seen it done in other schools."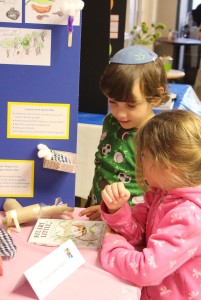 "[I] really like[d] the idea of celebrating reading," explained Dr. Kyanka-Maggart. "I know that our lower school teachers love and value reading as well and thought it would be fun to have an evening that celebrates reading."
Students from kindergarten to fifth grade participate in the Reading Fair. Older students each choose a novel to read and then make a creative display board about the book. Novels of all different genres were represented, including The Summer of the Swans, Out of my Mind, A Wrinkle in Time, and Airball. Even Hebrew books could be found at this year's Reading Fair!
While students in or below second grade were only required to contribute to their classes' Reading Fair displays, many chose to also create their own boards. Second grader Rayli Kopelman crafted a sparkly board that told about Ivy Green, Cootie Queen, a book written by Joan Holub. She enjoyed reading her book, but making the display board was something that she "really liked."
Kopelman added, "I liked printing the papers and putting them on [the board] with feathers and jewels. That was really fun."
The colorful posters that line the hallway were the main attraction of the Reading Fair. Behind the scenes, students of all ages had the opportunity to hear picture books read in their classrooms. This aspect of the fair was new to this year, and according to Dr. Kyanka-Maggart, was a wonderful experience. "As someone who loves to be read to, that was my favorite part," said Dr. Kyanka-Maggart. She added, "The kids created really outstanding displays, too!"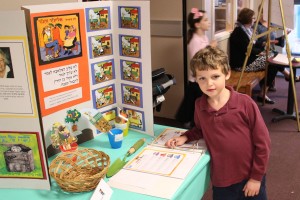 Although Reading Fair is new to HBHA, it is already clear that students and teachers alike love and value it. Hopefully, Reading Fair will continue to be part of the HBHA lower school experience for many years to come.