April was a busy month for the Jews. On April 16, 2015 Jews worldwide commemorated The Holocaust. On April 22, 2015, Yom HaZikaron, Memorial Day for Israeli soldiers was commemorated. The very next day, April 23, was Yom HaAtzmaut, Israel's Independence Day. All three are important for Jews worldwide, and especially Israelis .
Holocaust Remembrance Day, or Yom HaShoah, was established in 1953 by Prime Minister David Ben-Gurion and President Yitzhak Ben-Zvi. They originally chose the 14th of Nissan, because that was the date of the Warsaw Ghetto uprising, but it was moved to the 27th because the 14th is too close to Passover. Despite the official date, some members of the Orthodox community commemorate Yom Hashoah on other mourning days, such as Tisha B'av (the day both temples fell) or the Tenth of Tevet (which commemorates the siege of Jerusalem during the Babylonian Empire).
Although there is no institutionalized ritual that all Jews perform on this day, most communities hold memorial services. A common practice is lighting six memorial candles in memory of the six million murdered Jews. The kaddish, a prayer for the dead,  and songs and poems written for Yom Hashoah are often read. The Masorti Movement (Conservative Judaism in Israel) compiled liturgical pieces specifically for Yom Hashoah into a book.  In Israel, all flags are at set at half-mast in honor of the lives lost, and public entertainment venues are closed by law. At 10:00 in the morning, a siren sounds throughout the country, and everything freezes. No matter what they are doing, everyone stands and stops and reflects in a moment of complete silence. On this day, Israeli radio and television only features documentaries about the Holocaust, and somber music.
Likewise, Yom HaZikaron, or Remembrance Day for the Fallen Soldiers, is a solemn day in Israel. It was also established by David Ben-Gurion in 1951. He chose the 4th of Iyar, the day before Independance Day. This day is meant to be a reminder of the cost that Israelis, as a people, paid to achieve Independence. On Yom HaZikaron we remember soldiers who fought for Israel and sacrificed their lives since 1860, the year that Jews were allowed to live outside of Jerusalem's walls. As of this year, the souls lost add up to 23,320 men and women. Nearly every Israeli has someone to remember, because every citizen serves in the army.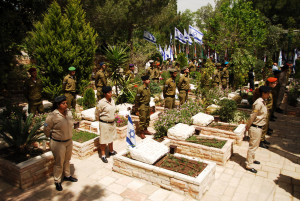 Observance customs are similar all around the world. In Israel, a siren is sounded for one minute at night and for two minutes during the day. Just like on Yom Hashoah, the entire country stops during these minutes. On this day, flags are all at half mast. Ceremonies are held at military bases, the Western Wall, and at any cemetery where soldiers are buried. Graves of loved ones are visited throughout the day and government-owned TV channels list off the names of the fallen over the course of the day.
Finally, Jews get the chance to celebrate  Yom HaAtzmaut, or Israel Independence Day. On the 5th of Iyar, 1948, Prime Minister David Ben-Gurion declared Israel as an independant country, a mere eight hours before the British Mandate of Palestine ended. The Jews were overjoyed; the young, the old, the Orthodox, and the secular danced and sang in the streets of Israel together. At last, there was a place for them to call home the Jewish people had finally reclaimed the land promised to them thousands of years ago.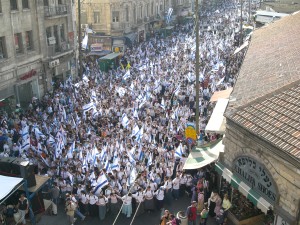 Independence Days are celebrated all over the world. In Israel, however, Independence Day  is a momentous occasion. Celebrations start the night before, on Mount Herzl, where flags are raised all the way, and a speech is given by a member of the Knesset (the Israeli Parliament). Twelve Israelis who have made significant achievements are honored by lighting twelve torches, each one representing a tribe of Israel. Cities close the streets to cars, allowing people more space to sing and dance. There are firework displays, and performances of Israeli music. There are official ceremonies in Jerusalem, and there are Israeli Air Force flyovers. In the major cities, parades are held.
During this day, there is no emotion but joy. Some Jews recite Hallel on that day, but others are opposed to doing so because Hallel is not supposed to be read during the counting of the Omer. There are pieces of liturgy written for this day, but they are not always used. Different denominations have different additions to the services and Torah readings on Yom HaAtzmaut.
All three of these modern holidays commemorate the great struggles that Jews and especially Israeli Jews endured, and the reward that they finally received. After centuries of death, destruction, and misery, a new nation arose; a nation that is strong and proud. This nation has a strong influence on the world; it is a nation full of stubborn, loud, and proud people. This is a nation of fighters, poets, heroes, artists, scientists, engineers, farmers, pioneers, and politicians. This nation is something to be proud of: Israel is the home of the Jews and people will it to thrive!