After an extraordinary season, the Royals are finally back to "Take the Crown" once again. Last season, the Kansas City Royals were the team to watch. "A true Cinderella Story" says freshman Gabrielle Abrams, "The Royals showed incredible perseverance and kept you sitting on the edge of your seat. It was one of the most exciting things I have ever witnessed here in Kansas City."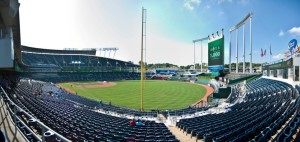 The 2014 season started off with both wins and loses, but as the season came to a close, the team got better and won the wildcard game in the playoffs. Soon, the Royals became instantly famous. Everyone cheering them on as the "underdogs." Next they won the American League Championship Series. The final stop was the World Series. Kansas City's "Boys in Blue" fought hard until the end of game seven. Heartbreakingly, the Royals lost to San Francisco, but Kansas City was more than happy that they made it that far.
For the 2015 season, fans are expecting nothing but the best. Being number one in the Central Division of the American League and having 14 losses out of a total of 38 games so far, the Royals are definitely coming out swinging. The theme on social media has been #foreverroyal. Royals Fans everywhere use this hashtag to brag about their favorite team or just post a fun picture while at a Kauffman Stadium.The team has also gained four new players, Alex Rios, Kendrys Morales, Edinson Volquez, and Paulo Orlando.
"After such an exciting season last year, I was so excited to return to the K. Being with my boyfriends [Royals players] and returning to the hype was amazing. It made me so eager to see what this year has in store for the royals. Tuesday night [21 Apr.] proved the amazing strength of the team and the fact that they powered through and pulled of a great win was unreal. Being on TV wasn't too bad either!" said junior Adena Goldberg.
Goldberg is not the only one who thinks this year will be "forever royal." Kansas City has put themselves on the map for the year and everyone cannot wait to see what they will do next. Get ready for another season for the Royals to "Take the Crown"!
All photos from flikr.com