College Campus Anti-Semitism
Adena Goldberg
December 20, 2015
This article contains opinion.
Over the past several years, college campuses have become the hotspot for Boycott, Divestment, and Sanctions (BDS) and other anti-Semitic groups to harass Jewish and Zionist students, directly impacting Hyman Brand Hebrew Academy (HBHA) alumni.  These groups latch onto social causes, bringing student supporters of those causes to defame Israel. In an Anti-Defamation-League (ADL) press release, ADL CEO Mr. Jonathan A. Greenblatt suggests that "BDS poisons the atmosphere for serious intellectual debate and contributes to an environment of intimidation." The ADL works to counter BDS actions, hoping to create a safer environment for all communities, specifically college campuses. Students have spoken out against these protests, providing an accurate definition of apartheid, and spreading pro-Israel ideas throughout college campuses.  
Rachel Kaseff, Hyman Brand Hebrew Academy alumna from the class of 2013, is currently a junior at Goucher College in Baltimore, Md. Kaseff is an intern at her school's Hillel, working with Israel advocacy. Goucher Hillel, along with the school's Lesbian Gay Bisexual Transexual and Questioning (LGBTQ) group, TALQ BIG, cosponsored an event at which an openly gay Israeli, Asis Azar, came and spoke to students about his experience of being gay in the Middle East. TALQ BIG students chose not to participate in the event as they felt that Azar's story and movie were not accurately depicting the struggle of being discriminated against in Israel because of sexual preference, especially from the Palestinian point of view.
Kaseff, along with Hillel, attended the event, and was welcomed with TALQ BIG protests. Kaseff said the students "were carrying signs that said things like 'LGBTQ rights for who?' and 'Check your privilege,' and they had pink duct tape over their mouths." Their right to freedom of speech, guaranteed by the U.S. Constitution, allows them to hold this protest. The issue truly arose at the end of the movie when the same students began chanting anti-Israel and anti-Semitic statements directed at the the speaker and the Jewish students.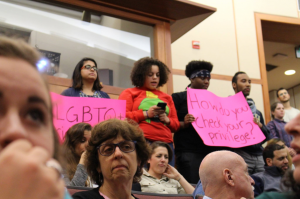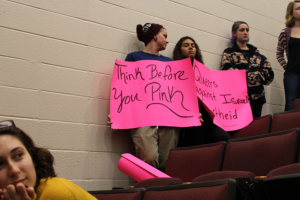 Kaseff added that "the speaker tried to have an open and honest dialogue with them but it turned into a screaming match." The issue continued to grow when the university administration sent an email to the student body addressing the situation, claiming that the results of the event were positive. Kaseff inferred that the email was an inaccurate description of the event and that she was disappointed "not just for the way everything was handled but also for the way it was swept under the rug after the email was sent." Kaseff said that Hillel hoped to make amends with the protestors and invited them to Shabbat dinner to discuss their differences, but only one TALQ BIG student showed up, preventing a true change from happening.
Kaseff's parents, Miriam and Eric Kaseff, were also very frustrated with the events that transpired at Goucher. Miriam Kaseff shared that "at first, we were hesitant to get involved with the process because Rachel is in college. However, we felt this wasn't just a parental issue but a Jewish issue as part of a Jewish community. After several days, we hadn't heard anything from the school…so Eric sent an email to the president of Goucher, Dr. Bowen, who happens to be Jewish. Dr. Bowen responded to Eric's inquiries regarding the incident and promised action was being taken to prevent anything like this happening again." Miriam Kaseff shared how proud she was of her daughter's willingness to take action in the situation, "[Rachel] took an intimidating situation and became stronger for it. We know Rachel is not the type of person to just be passive in this kind of situation."
HBHA College Guidance Counselor Todd Clauer is well aware of anti-Semitism on college campuses and the impact that it often has has on student's choice of college. He, however, has no fears that any HBHA alumni would have trouble dealing with a situation like the one at Goucher, "as I hope that we at HBHA instill the knowledge and skills that will help graduates advocate on behalf of Israel – including responding appropriately to attacks on Israel." He knows that students will "stand up for Israel in any environment once they leave HBHA" and believes "that our students are uniquely suited and qualified to proudly support our homeland – even when that may be hard to do or against the tide of the people around them."  
Anti-Israel sentiments are not unusual on college campuses and Kaseff is not the only HBHA alumni to have have encountered them. Kaseff's former classmate, Daniel Goldberg, a junior at The University of Maryland in College Park (UMD), a campus known for its large Jewish population, has had a different experience with Israel support. Goldberg is a member of the Alpha Epsilon Pi Fraternity at UMD. The fraternity hosted a march on Yom Hashoah (Holocaust remembrance day) last spring, at which they carried Israeli flags and marched around campus. Goldberg said that "rather than receive hate we were praised by fellow students."

Goldberg added that, in a previous year, he "received an email from the pro-Israel student group (of which he is a member), Terps for Israel, about a pro-Palestine protest outside the library. [Goldberg and other Terps for Israel] managed to bring so many students dressed in blue and white that it turned a potentially tense situation into a peaceful counterplot as [Terps for Israel] outnumbered them."
Goldberg recognizes that "Maryland is the exception not the rule when it comes to anti-Semitism on campus." Due to their proximity to Washington DC and the fact that UMD has a pro-Zionist campus, Goldberg added that he is "thankful for [his] situation at Maryland," and that "it is important to stand up for Israel regardless of the hate speech and attacks against her as a nation."
Current HBHA students are considering this issue as they apply and decide where they will go to college within the next year. Senior Aleck Bratt shares that he "think[s] it is very important to certainly stand with Israel, especially with anti-Semites and anti-Zionists on campus, but it is important for us to look at situations objectively and to make up our minds ourselves (about our Israeli policy), while knowing the facts, to best represent our people and our country."
The discrimination on campuses, based on many different points of diversity, have appeared in the headlines of many large news outlets, and HBHA students continue to try to better understand and develop personal strategies in dealing with incongruous ideas on campus.