Middle School Teachers Implement JCAT into their Curriculum
Gabrielle Abrams
February 4, 2016
Hyman Brand Hebrew Academy (HBHA) middle school teachers have incorporated a new element in their syllabi for this school year. Social Studies Department Chair Josh Goldberg and Jewish Studies Department Chair Michal Cahlon added Jewish Court of All Time (JCAT) to their 7th and 8th grade classrooms. JCAT is a program for middle school students in Jewish Day Schools across the country to "become" a historical figure in a fictional but relevant court case.
This year's case is about whether ostentatious religious headwear should be allowed in French schools. These accessories may include a Muslim hijab, Jewish kippah, or cross for Christians.
In Goldberg's seventh grade social studies students have become personas such as Malala Yousafzai, Mel Gibson, Joan of Arc, and Donald Trump, with Goldberg as Bob Marley.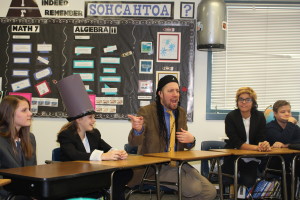 Cahlon said that in her class, "each student is a different Zionist (Jewish or non Jewish) or a current or former member of the Knesset and forms their opinion based that visionary's thoughts." Characters in Cahlon's class include former prime ministers Golda Meir and Yitchak Rabin, and Zionist Charles Orde Wingate, along with many others. Once the student has formed an opinion based on their character's beliefs, they post it to the JCAT website for other pupils from across the country to vote on. Once they have amassed enough votes, they can be elected as a justice for the case.
There is a seventh grader (who will remain anonymous) in Goldberg's class whose character is Mel Gibson. S/he posted some discriminatory comments on the website, in spirit of the character. Then, Gibson apologized to the JCAT community, similar to his real life apology in 2006 after a drunk driving incident in which he spewed anti semitic remarks.
Goldberg is taking JCAT to a new level in his classroom. He had a cocktail party where each student dressed as their character and was interviewed by his character, Bob Marley. The students are, "excited about this new experience which has changed the structure of the Social Studies Department and how the students learn history." Goldberg remarks.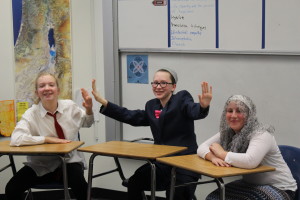 Eighth grader Gavi Glickman has Russian Zionist Nachman Syrkin as his character and says, "he really likes socialism which gives me an interesting perspective on the case."
Overall, the integration of JCAT has been beneficial to the students' learning and the Social Studies and Jewish Studies Departments.