Uniting to Pursue Justice: HBHA and UA Students Join Together on Civil Rights Journey
Written by Haidee Clauer and Julia Paul.
For the past year, high school students from Hyman Brand Hebrew Academy (HBHA) and  University Academy (UA) have been forming a bond that would lead to a life changing experience. Students from both high schools began working together in 2015 through Communities Creating Opportunities (CCO), an organization that gathers volunteers to address community issues, including increasing voter registration. After phone-banking, volunteering, and organizing a candidates forum, they began their next active pursuit of justice: a Civil Rights Tour of the American South.
Starting in August 2015, the HBHA and UA faculty began working to organize a trip dedicated to creating personal connections to the Civil Rights movement through hands-on learning.
English Department Chair and one of several trip leaders R. Gina Renee explained, "I knew that there would be differences in race, class, and culture between the two groups of students, and I thought it would be a challenge to get the students to interact and go out of their respective comfort zones and begin to connect as people and teenagers…The result was friendships based on shared experiences between students of different races, cultures, religions, socio-economic statuses…I am more than thrilled with what we accomplished."
Before the trip, UA Senior Breauna Roberson said that she wanted and expected to gain more friendships from the trip. Robertson points out that "I've already established friendships with the people at my school, so it would be nice to have more friendships with the people from [HBHA]." The friendships formed were far beyond what people expected. UA student Arion Hewitt says, "I learned so much about everybody in such a small amount of time."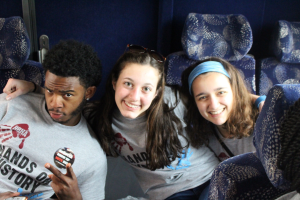 In addition to forming strong relationships, students from HBHA and UA studied the history of the Civil Rights movement and how it connected to Jewish history. They compared the common struggles between both cultures, strengthening the student's bonds even more. HBHA sophomore Amanda Sokol says, "I never realized how interconnected the Jewish and Black communities were in this struggle for civil rights." Tatiana Gravely-Moss, a Senior at UA explains, "in a lot of our classes we learn about African-American studies and things like that, and on this trip I found out that Jewish people actually had a lot to do with what we did!"
Indeed, Jews worked alongside African-Americans in a combined fight for civil rights throughout the movement. Abraham Joshua Heschel, a prominent Conservative Rabbi during the 1950's and 60's, was a co-worker, advisor, and close friend of Reverend Dr. Martin Luther King Jr. Congregants and clergy in synagogues in Georgia, Alabama, Mississippi, and Tennessee described their activism and partnership with African-American activists during the Civil Rights movement. Sokol adds,"it's really amazing how these communities came together for this one cause."
Touring the cities and learning about shared history initiated the friendships between UA and HBHA, but the unplanned interactions were the moments of true bonding.
"Before," UA senior Alexis Tolbert comments,"I feel like we didn't get enough time to really talk to each other, but when we mix busses we have more time to actually talk and be together…and [being] outside of school is cool because you can be yourself."
Sokol continues, "Last night, when we had a dance party, all of the UA and HBHA girls got together and it was really, really fun."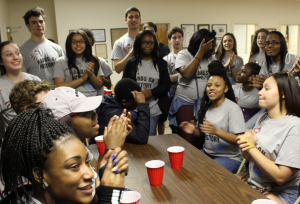 Between icebreakers, dance parties, spontaneous rapping, and learning about each other's heritages, the bonds between HBHA and UA students were solidified by the end of the trip.
"The most impactful part of the trip," Gravely-Moss elaborated, "was getting to know the HBHA students…I got to spend the week with them, and it really changed me! I'm glad I got to meet new people."
At the end of the trip, all of the HBHA students gathered together for a concluding activity. Upper School Principal and trip leader Todd Clauer led a reflective discussion of the trip as a whole. "The last piece of this is about all of you," Clauer began, as he started to tear up. "You really have exceeded all of my expectations in the way that you've interacted with one another, with the speakers, the presenters, the places we've gone, and certainly with the University Academy students. It meant a lot to me to be a part of this. "
The students from both HBHA and UA will never forget their experiences from the Civil Rights trip. They learned that you are never too young to make a difference in society and in the world. "We have to always help in the fight for equality and justice," Sokol declares, "everybody, every culture has to work for equal rights."
In addition to leaving the experience with new perspectives and inspiration to change the world, each of the students formed strong relationships with each other that will last a lifetime.