Tuesday Nov. 22: Chiefs, Rams, VIPs, and STUCO Leave HBHA With a Full Schedule
Ayelet Schuster
February 9, 2017
Written by Josie Safir and Ayelet Schuster.
On Nov. 22, Hyman Brand Hebrew Academy (HBHA) had the pleasure of hosting its annual  VIP Day, an exciting welcome to Mitchell Schwartz (a newly recruited Chiefs player), boys and girls varsity basketball games, and a high school lock-in.
VIP day:
Originally, VIP (Very Important Persons) was called grandparents day, but was changed "to encompass other relatives and friends, especially for those students whose grandparents are not able to attend" said HBHA's Director Development, Kerry Cosner. About 170 VIPs attended the event.
All of the visitors gathered in the Social Hall and ate breakfast as they listened to students compiled work, including songs sung by students of all ages, the Middle School Choir, and the Middle School band. High Schooler Tehilla Siboni played the violin, Josh Kreisler played the saxophone, Austin Klinock played the guitar, and Edan Cohavi and Daniel Rose played the piano. "They played separately and in duets and the crowd loved them! We have very talented students here, " said Cosner.  "The purpose of VIP Day is to bring grandparents and other family members into our school so they can get a feel for the fun, yet challenging, learning atmosphere and smiles we get to enjoy every day. If they are also donors, we want them to see the wonderful ways in which their contributions are being put to use. Maxine Benson, HBHA grandmother, said it best when she spoke to the crowd… our grandchildren 'are reaching academic goals, but more importantly, the words mitzvot, tzedakah and tikkun olam are part of their vocabulary.'" Cosner said.
After the program, the VIPs accompanied the youngest student they came to visit, and the student's siblings would join them. Kindergarteners made paper chain of hands with family names on them, first grade made paper links of hearts with family names of them, and second grade made dimension paper flowers which all formed a scene on the lower school bulletin board. Meanwhile, the third, fourth, and fifth grades worked on STEM experiments in the science lab with Mr. Cody Welton and Mr. Micha Margolies. Sixth grade created family teams and worked on the marshmallow/spaghetti challenge with Lisa Ryan. Seventh and Eighth grade made a video in the technology lab with Jenny Mead.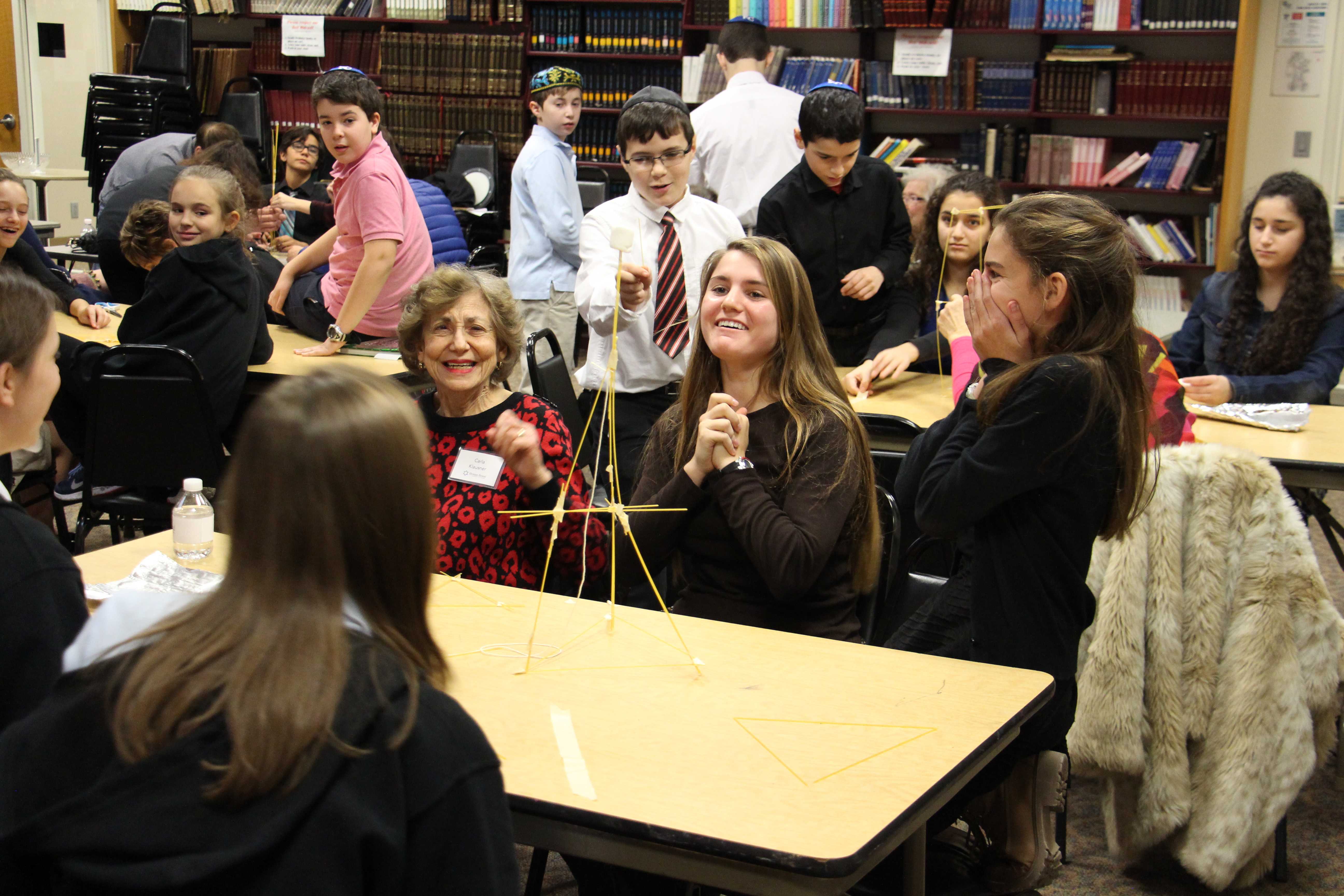 In the high school, VIP's worked with their student on an engineering program. The groups needed to use the given materials to build a structure that would protect a raw egg from breaking after being dropped from the fire escape.The materials included a piece of cardboard, newspaper, a piece of felt, a couple handfuls of styrofoam peanuts, some string, masking tape, a popsicle stick, and two plastic cups. All 7 structures survived from the first drop (on the lower level,) but only 5 survived the second drop (from the higher level.)
Chiefs Player:
HBHA was also honored to have Mitchell Schwartz, a Jewish Kansas City Chiefs player, come visit the school on Tuesday Nov. 22nd. Schwartz recently signed a 5-year contract with the Chiefs. His position is offensive lineman, and his jersey number is 71. Schwartz and his brother, Geoff Schwartz, are the only Jewish brothers who currently play in the NFL. Schwartz was welcomed to HBHA with choreographed cheers performed by the 1st grade. As Schwartz was welcomed to the stage by Head of School Howard Haas, he was given a Chiefs/HBHA kippah. Students got a chance to ask questions such as what it's like being a professional football player, eating healthy, being Jewish, and Schwartz's favorite places in Kansas City. After the assembly, Schwartz was given a tour of the school.  
B-ball games:
There was still more to the day! The Varsity Rams and Varsity Lady Rams had their first basketball games against the Alta Vista Aztecs on Tuesday, Nov. 22nd. There was a great turnout of fans at the games who gave lots of support to both teams. Despite the great efforts from the opposing team, the Varsity Lady Rams pulled out with a win, and every individual on the team got playing time. The final score was 46 – 21, and Coach PeriJo Maddox said that her favorite part was that "[there was a] big crowd there to support us, even some alumni and their families [came]. [We] played well early especially [with our] press, [and] everyone on the team was able to contribute. Senior Alexis Davis had a personal best even with time on the bench; [and she] loved the spirit and support of the bench! [The girls had a] great start which is what I expected. I would like to see more purposeful offense as we get into tougher teams."
Though the boys worked hard, they were defeated by the Aztecs. Freshman Addison Brand said, "This year's teamwork by the first game already shows substantial improvement from last year." Senior Ariel Brudoley put it, "I feel that we played hard. We are very thankful for all of the support we received. It was a strong start to the season, but we hope to grow further."
Lock-in:
High School Student Council (STUCO) and spirit committee planned a high school lock-in following the basketball games on Nov. 22nd. The lock-in was planned as a late-night event for the high school that would raise attendance at the basketball games. The lock-in started with a  bagel bar for dinner. As students ate, they also watched the movie "10 Things I hate About You." After dinner, the students played a huge game of sardines throughout the school. For dessert there were ice cream sandwiches. The lock-in was a  night of friends, food, and games.
High Schooler, Gavi Glickman says "The lock-in was a great way to start off the long Thanksgiving weekend with friends, and I had fun just hanging out." A Tuesday to remember!