Fifth Graders Look Ahead to Winterims Next Year
Immediately following Winter Break, Hyman Brand Hebrew Academy (HBHA) middle and upper schoolers experience their annual  "Winterims Week" in which all middle and upper school students select elective-style courses, some of which are taught by teachers and others that are led by students. Instead of the regular core classes, HBHA offers a wide variety of entertaining classes to allow the students to learn about different topics during Winterims Week.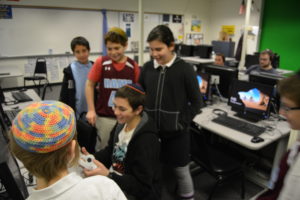 This year, fifth grade teacher Nancy Franks ventured upstairs with her students to sneak a peek at the Winterims experience, in which they will partake  next year as middle school students. Franks told her students, "Starting next year, during the first week back from Winter Break, you all will have the opportunity to explore some different kinds of classes before returning to the curriculum of your [normal] classes." As Franks walked and her students around, they caught several classes in action, including cooking, music of the 90s, improv, beat boxing, mah jong, a class on human rights, and stamp making in art.
After witnessing the fun and excitement of Winterims week, the students "were sad that they weren't offered in 5th grade," said Franks.
When asked his opinion about Winterms, fifth-grade student Gabriel Decker replied enthusiastically, "I think that it would be really fun and exciting. It is a great way to educate kids in things other than math or science."
Fifth graders Sophie Stang, Max Rosales, and Eitan Shneor all agreed that one of the best Winterims was Mrs. Lisa Ryan's "Blankets for Blake" class. Stang expressed her admiration for how the "students made blankets for children's hospitals."
The 5th graders look forward to next year, when they will be included in the winterim fun. Franks said that the students' excitement is almost palpable, and "They thought they should be 6th graders now and be able to participate!"