Millions March Hoping to Trump Sexism in America and the World
Sagi Rudnick
March 7, 2017
Slider image by Margaux Renee.
On Jan. 21 2017, the day after President Donald Trump's inauguration, roughly 4,814,000 people around the world marched en masse to advocate for women's rights. Collectively, the Women's March on Washington and its sister marches across the United States constituted the biggest peaceful protest in our country's history. 673 marches took place around the world in addition to the march in Washington DC . An estimated 500,000 people partook in the main march in Washington DC, and over 5,000 activists marched in Kansas City, Mo.
Students from Hyman Brand Hebrew Academy (HBHA) attended various Women's Marches in different cities around the country, including 12th grader Leah Sosland in Boston, Mass, 8th grader Nina Baran in Washington DC, 9th grader River Hennick in New York, NY, and 8th grader Abby Kreisler and 11th graders Haidee Clauer and Amanda Sokol right here in Kansas City, MO.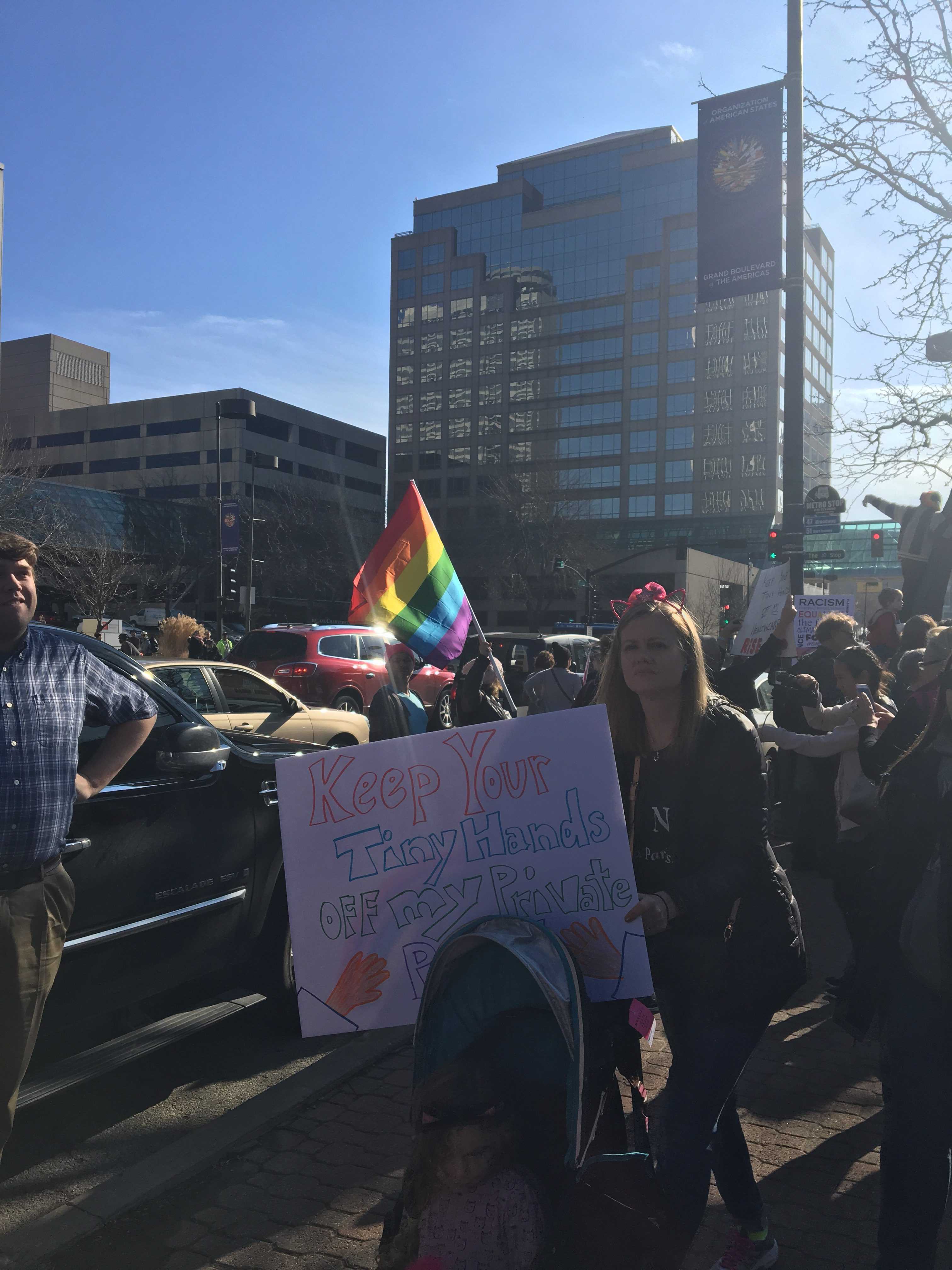 One reason people chose to march was because they felt they needed to take action and advocate for their views, especially after the end of a very divisive election. "I chose to go [to the Women's March in Washington DC] because I felt like we had to stand up and fight for what we believed in because we couldn't just be bystanders in this political climate of craziness," shared Nina Baran.
Another reason people chose to march is because they want to send a message of unity to those who are disadvantaged in our society. "As a civil rights lawyer, I think that marches such as the Women's March on Washington are important… because they remind the marchers that they are not alone in their desire for a more just society", explained Andrea Baran, a lawyer and the mother of Nina Baran. She further specified that "these marches are important because they highlight the intersectionality of oppression against women, people of color, religious minorities, LGBTQ persons, disabled persons, immigrants, and the poor."
Others  chose to march in response to the new administration. "I chose to attend the march because, in light of Donald Trump being sworn in, I was feeling kind-of down about the state of our country," explained 10th grader Margaux Renee, a student at St. Teresa's Academy who participated in the march in Kansas City. "Trump is not only disrespectful but [also] hateful towards women and wants to dissolve some of our human rights. This is horrifying to me because at times I feel like nothing can be done about it," and the march helped "channel that sort of loss of hope into something positive," added Renee.
A sizable amount of men, as well as other groups, also marched in solidarity with women. "Surprisingly, the protest was almost equally divided as far as men and women," remarked Renee. "There were Black Lives Matter activists, LGBTQ rights activists, and even some Christians, who tend to be conservative, there advocating for women's rights." explained Renee.
It is unclear what effects the Women's Marches will have on the treatment of women in our society, but the marches shed light on the fact that no one can reach their full potential until our society offers equal opportunities to everyone. Hopefully, the marches will help persuade government leaders to heed womens' call for equal rights in society.