Working Hard or Hardly Working? HBHA Students on the Job
Mirra Goldenberg
March 29, 2017
What better way is there to spend your free time than by earning money? Some upper school students at Hyman Brand Hebrew Academy (HBHA) might prefer hanging out with friends, or even sitting at home watching Netflix. Several more students would agree with this statement. HBHA helps students develop the skills to be successful in life, and this entails venturing out into the world in order to find jobs of their own. HBHA students find a variety of employment opportunities, including working at Blue Chip Cookies, Firehouse Subs, teaching at congregational Sunday School, and babysitting.
Sophomore Ethan Matsil began his job at Blue Chip Cookies at the beginning of this school year. Matsil works at Blue Chip Cookies on Fridays, Saturdays, and Sundays, and his duties include serving cookies, ice cream, fountain drinks, and milkshakes. "I also clean," Matsil is sure to mention.
Part of being a upper school student is learning how to take care of yourself. Earning your own money is an essential part of that and making the experience enjoyable is an important aspect as well.
"If you can afford and have the time to get a job, it's a great way to spend free time," Matsil says.
Like Matsil, junior Gabrielle Abrams found a job in the food business as well. Abrams found herself wanting a job due to a basketball injury that occurred early on in the season. Even though she will not be able to spend her free time exactly how she had planned, she says she is "so excited to start making some money of my own and gain more work experience." Abrams was hired as a "Team Member" at Firehouse Subs, a sandwich shop, and her duties include working the cash register, making sandwiches, and cleaning the restaurant. Abrams says that she plans on "working some weekdays after school and maybe a little bit on the weekend."
This is Abrams' "first real job," as she puts it. "I have always wanted to have a customer service job," Abrams explains, "and after my interview the place seemed like a really good fit. My co-workers are cool and the management is really great."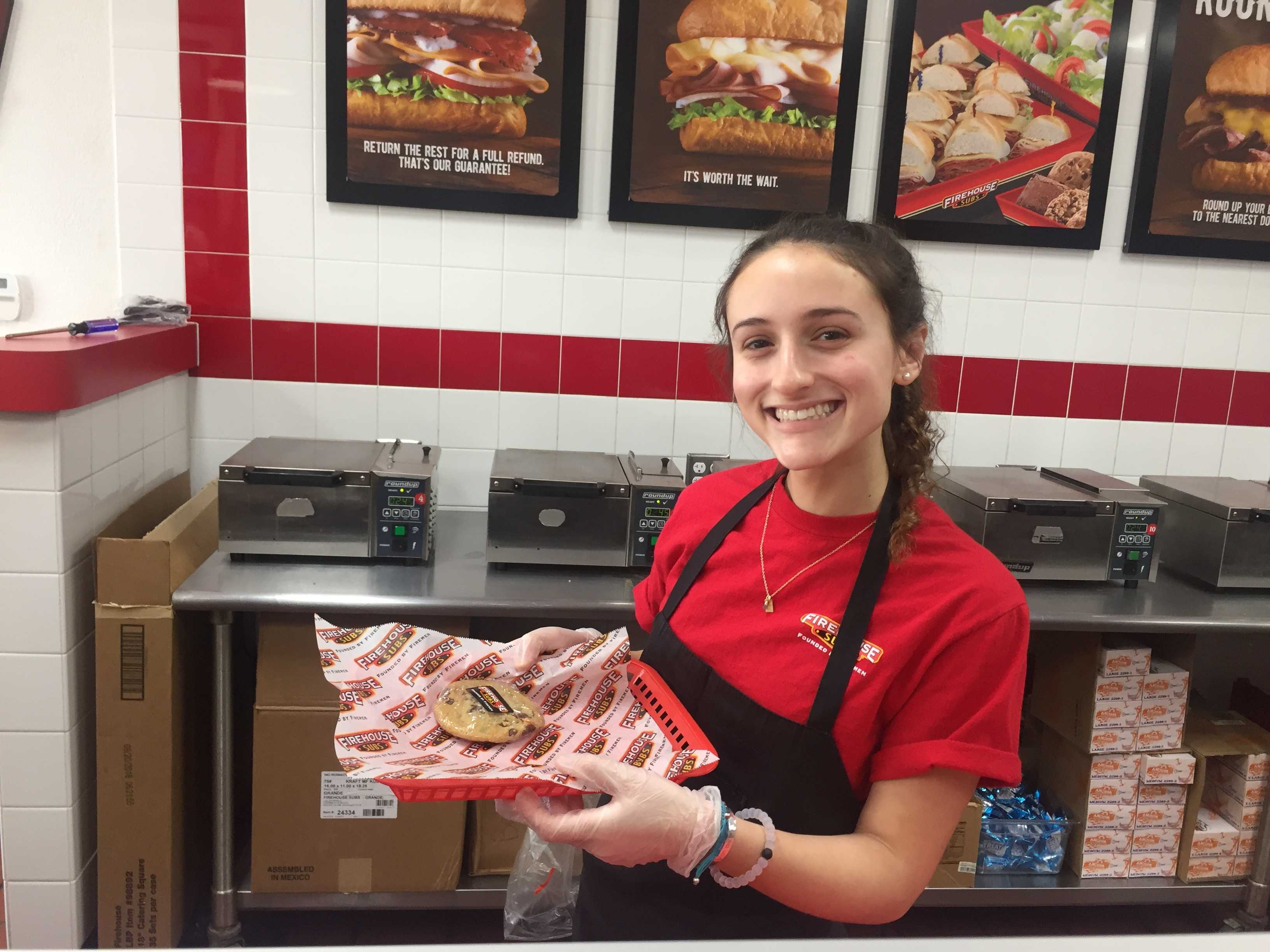 Several HBHA students share similar  jobs, working at either Congregation Beth Shalom or The Temple, Congregation B'nai Jehudah's Hebrew School as Madrichim or teachers' assistants. Freshman Sara Saidel began working as a Madricha when she was in seventh grade and enjoyed it, and she has been spending her Sundays there ever since.
"I really like getting to know the kids at Hebrew School and hanging out with the other Madrichot in my room," Saidel explains.
Students who teach at congregational Sunday Schools have the option to get paid or receive community service hours. Like Saidel, senior Alexis Davis has been volunteering as a teacher's helper at Congregation Beth Shalom's Hebrew School since she was in eighth grade. At the end of last year, she was offered the position of kindergarten teacher. Davis has progressed from being a teacher's helper as an eighth grader, all the way to leading her own kindergarten class as a senior.
"I decided to say yes because I have loved being in that classroom," Davis says. "I have the kids for about three hours, and we learn about Bible stories, Jewish holidays, Hebrew letters, and do art projects." Saidel and Davis are not alone. Eliana Saidel, Jacob Bell, Natalie Bell, and Alina Bell work with them at Congregation Beth Shalom's Hebrew School, and Ayelet Schuster and Eliana Schuster work at The Temple, Congregation B'nai Jehudah's Hebrew School.
The lessons that students learn from having jobs are ones that can not be taught elsewhere. Whether it is working at a sandwich shop or babysitting little kids, jobs hugely impact the lives of upper schoolers at HBHA.