A Day in the Life of an HBHA Fourth Grader
Ayelet Schuster
April 20, 2017
Who says adults get to have all the fun? Hyman Brand Hebrew Academy (HBHA) fourth graders' daily adventures are jam-packed with creativity and excitement. Each day is a new adventure for the fourth grade, and these are some of their favorite parts of their day.
8:00 am: The fourth grade starts off their school day in prayers with Michal Cohen, middle and upper school Hebrew teacher, and Zvia Zadock, lower school Hebrew teacher.
"Each day we take turns being Hazan or Hazanit" said fourth grader Leah Snitz "My favorite prayer is the Ashrei because it has every Hebrew letter in it."
8:30 am: After prayers are over, the fourth grade students rush to general studies with fourth grade general studies teacher Jenny Safir. General Studies includes English, in which students read Number the Stars by Lois Lowry. They also write stories and read books about famous figures. "I read about Walt Disney… he drew some really cool cartoons!" said fourth grader Baruch Chaim Mazer.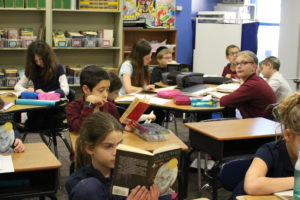 9:20 am: Recess! The students race outside to the playground to play games and go on the swings. "My favorite thing to do at recess is play mini freeze tag… it's like regular freeze tag but with less people in a smaller space," said Tali Gortenberg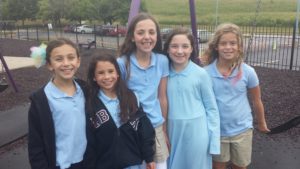 9:40 am: After recess, the fourth grade splits into groups inspired by the colors on the Israeli flag. One group goes to general studies and the other goes to Jewish studies. Another subject the fourth graders learn in general studies is math. Right now they are learning about decimals. "Math is my favorite subject" says Evie Freed.  "We are learning about decimals. Decimals are really hard, but they are getting easier as we learn them"
10:40 am: The white and blue groups switch. In Hebrew, with Morah Zadock, the fourth graders learn about the water cycle using only Hebrew words. "We knew some of the words already, but we learned the words for ocean, river, lake, and stream" said Snitz.
12:30 pm: Lunch time. The fourth grade makes their way to the lunchroom to eat lunch, after they say the Birkat Hamazon, and then they go outside for their second recess.
1:30 pm: Later students go to a program called Learning Academies Understanding New And Challenging Horizons (LAUNCH) with Vickie Sisco. "My favorite subject is LAUNCH… We are learning ancient number systems. They look a lot different than ours, we're learning the Mayan number system right now and it's a bunch of sticks and circles," explained Gortenberg.
2:30 pm: At the end of each day the fourth grade has specials, which are classes that the students have once a week in a continuous rotation.  Their specials include art, science, computers, music, and PE. "My favorite special is either computers, science, or PE, I can't decide. They are all so much fun!" added Mazer.
3:40 pm:The bell rings and school is over. That is the end of the day for the fourth grade… until next time!