On Jan. 16th, MLK Day, Hyman Brand Hebrew Academy parents, students, and faculty visited Harvesters Community Food Network to give back to the community and honor Martin Luther King Jr.  HBHA has been volunteering at Harvesters on MLK Day for eight years. Tamara Lawson Schuster, Director of Admissions, organized the event.
Faculty, students, and parents from HBHA were divided into two groups and each were given separate tasks. One group packed  BagSnacks, a program that provides a backpack filled with food for children, who do not have a steady access to a food supply, can eat over the weekend.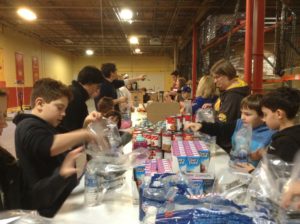 The second group was tasked with sorting onions. Each group worked hard to help feed the hungry people in our community.
HBHA places value on remembering Martin Luther King Jr. by volunteering because "Martin Luther King wanted to help people and we're helping people just like he did," says seventh grader Jacob Gold.