HBHA Joins Christian and Muslim Schools In Interfaith Dialogue
Eliana Schuster
May 9, 2017
On Thurs. 16 Feb., six Hyman Brand Hebrew Academy (HBHA) ninth and tenth grade students made their way to Pinstripes where they met, ate lunch, and bowled with 12 other students – six from Notre Dame de Sion School and six from the Islamic School of Greater Kansas City. This meeting served as the beginning of an interfaith initiative with the goal of "promot[ing] interfaith dialogue and communication so that respect and understanding can take place between students from the Jewish school, the Islamic school, and the Catholic school," according to HBHA principal Todd Clauer.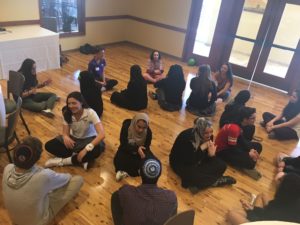 Clauer shared that a former Kansas lawmaker suggested the idea of creating a group of interfaith teens, "and he's helping to support it. The bigger goal [is to create a] common means of understanding difference in the larger Kansas City community and working with teens to bridge those differences."
The plan is for this group of teens to go about fostering this understanding by working together toward the common goal of helping Jewish Vocational Services (JVS) with their refugee resettlement efforts.
To participate in the initiative, each school selected six students who they believe are "leadership oriented, who are going to be highly engaged, and who might reflect with us at the end of the series of events, [and decide] what we'd like to do [with the interfaith initiative] in the future," Clauer said.
Zohar Flacks, HBHA's Director of Jewish Life and adviser of the interfaith initiative reflected that the first meeting "was really awesome. The ice breakers (get-to-know-you games) took a lot longer than we thought because they were really talking and getting into it, and getting to know each other. How natural the connections that happened there were blew me away. I was prepared for it to be a little awkward and for them to feel a little out of place, but that didn't really happen."
Sophomore Josh Kreisler agreed with this sentiment, saying that once the students "found some common interests with different people in the group, [they] began to build the foundations of friendships."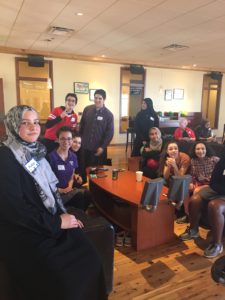 Though this meeting was simply introductory, it managed to create connections and inspiration, encouraging the students and adults to move forward in their project with optimism and excitement.
Flacks said that she was particularly inspired when "two HBHA students were sitting next to each other with their kippot on with their backs to me, and they were talking to two girls from the Islamic school [who] were wearing hijabs. [I realized that] something [like] that would not happen in a different setting, and it was really neat to see that happen."
At their next meeting, the students in the interfaith group will begin their work with JVS. Kreisler, who already volunteers regularly with JVS, looks forward to doing so alongside the other students in the interfaith group so that he can "create friendships with [people] who have very different beliefs than [his]. I think that us getting together peacefully and accomplishing mitzvot shows both us and the community that all of us are really just people."