Slider photo by Flickr.
Recent reports suggested that Kansas Gov. Sam Brownback will be leaving his current position as governor of Kansas to serve as the United States Ambassador to the United Nations for Food and Agriculture.
Brownback has neither confirmed nor denied this report, markedly dodging all questions regarding the proposed appointment. The White House has not made a comment on the issue.
Brownback, who is reportedly "close with Vice President Mike Pence," formerly served as the Kansas Secretary of Agriculture and on the U.S. Senate Committee on Foreign Relations.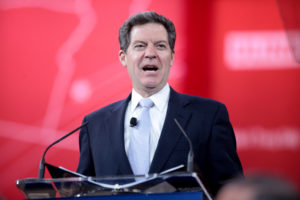 These speculations raise the important question of who would take Brownback's place should he leave office before the end of his gubernatorial term?
The Governor of Kansas is term limited to two four-year terms, and Brownback's second term will end in Jan. 2019. Should he leave his post early, Lt. Governor Jeff Colyer will take Brownback's place until the term's end.
Colyer, who has served as Lt. Governor since 2011, also has made no statement regarding Brownback's alleged appointment, saying only that he is "hoping to be the longest serving Lieutenant Governor in the history of the state of Kansas." Previous Kansas Lt. Governor Gary Sherrer served for seven years, and taking over the governorship would prevent Colyer from reaching his goal of breaking Sherrer's record.
A Colyer governorship would likely be welcomed by Kansans on both sides of the legislative aisle, as Brownback's controversial policies have often brought the state legislature under harsh criticism and continued scrutiny.
Upcoming topics in legislation will likely include education and healthcare, both of which have raised controversy during Brownback's term.
In an interview with The Kansas City Star, political scientist Bob Beatty proposes that Colyer may be able to compromise with the Kansas state Legislature more effectively than Brownback, as "Brownback's relationships may be irreparably harmed, but Colyer could start anew."
Until confirmation of the appointment is published, however, talks of Brownback's new role remain speculation.