The End to Traditional Sports as We Know It? Esports Rise in Worldwide Popularity
Gabrielle Abrams
October 23, 2017
Take the competitiveness and adrenaline of athletic sports. Mix in the strategy of chess. Top it off with sitting in a comfortable chair. What do you get? Esports. Esports, the  industry of multiplayer video game competitions, has grown significantly in recent years, now reaching an audience of 226 million people worldwide. That number even includes people that pay for tickets to watch others play video games in sold out arenas. This 21st-century concept has become the perfect fusion of passions for video game fans, allowing them to competitively participate and root on their favorite gamers. But it raises the question: what does the future look like for this new industry? And is this increased screen time fostering positive change or is it really just promoting an unhealthy "couch potato" lifestyle?
According to Hyman Brand Hebrew Academy (HBHA) Director of Information and Instructional Technology, Richard Borlaza, the future is bright for this growing industry. For many games like Minecraft, which is devoted to building in a virtual world, participants are able to host servers from their own homes for other players to join. The server is able to transmit enough data for all of its participants to display the same accurate version of the game world.
Borlaza explains that this trend of personal servers stemmed from a shift of, "more people getting Internet" and therefore, "ditching their traditional personal computer (PC) games for Internet games." The ability to compete in a worldwide playing field from your own bedroom is revolutionary in evoking intrigue and social connections to  Esport gamers.
Senior Edan Cohavi's love for Esports stems from, "the competitive environment and satisfaction of team play." Cohavi, who is an avid competitor in Overwatch, a multiplayer, first person shooting game as well as Counter-Strike, a game involving a battle between terrorist and counter-terrorist attacks, has also connected with new international friends through gaming. Cohavi proudly lists his friends' countries of origin as France, Philippines, Britain, and Australia, as well as across the United States. Locally, through Counter-Strike, Cohavi has met one of his best friends, Anthony, who lives near by in Overland Park. For many gamers, this social atmosphere is the most important aspect of Esports. Despite these positive experiences, Cohavi does not foresee Esports' popularity surpassing that of traditional sports and, recognizing the importance of physical sports in society, does not hope that they will.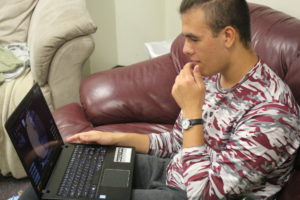 Austin Benton, HBHA Athletics Director, is concerned by the growing influence of Esports as he feels that it is more valuable to promote true physical fitness. Benton remarks that gamers are, "missing out on overall exercise" and is reminded of the fact that one of the leading causes of death is a sedentary lifestyle, absent of physical fitness and usually with excess screen time. Benton, a former college soccer player and current youth soccer coach, is disheartened by the trend of people losing the ability to have face-to-face communication that is borne out of participation in traditional team sports.
Being such a new and unprecedented industry, it is difficult to know what path Esports will take. The possibilities, however, are endless. Perhaps ESPN will have a network devoted to to Esports or Esports team logos will be as recognizable as professional football teams. Just as Esports were borne out of unpredictable technological innovation, so too will their future emerge.