54 Years After Historic March On Washington, Over 3000 Religious Leaders Continue the March For Civil Rights
Eliana Schuster
October 31, 2017
Slider image courtesy of Rabbi Daniel Kirzane.
Aug. 28, 2017 marked the 54th anniversary of the delivery of Dr. Martin Luther King, Jr.'s famous "I Have a Dream" speech at the historic March on Washington for Jobs and Freedom. To honor this occasion and reinforce Dr. King's message of hope and justice, over 3,000 religious leaders and lay people joined together in Washington D.C. in the 1,000 Ministers March for Justice (MM4J).
Organized by the National Action Network (NAN), this march was meant to reaffirm religious leaders' commitment to spearheading efforts for social justice and civil rights in their communities, specifically in the areas of voting rights, healthcare, criminal justice reform, and economic justice. The over 3,000 registered attendees far surpassed the original goal of 1,000, which had been set by Reverend Al Sharpton, NAN's founder.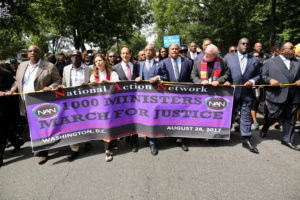 Leaders from the Christian, Jewish, Sikh, and Muslim faiths, among others, spoke at MM4J, all calling upon shared religious values of justice and loving-kindness. Greatly resembling the partnership of Rabbi Abraham Joshua Heschel and Dr. King during the American Civil Rights Movement, these religious leaders from various faiths embraced the similarities in their beliefs and joined together as a religious front to safeguard justice and equality.
Organized by the Religious Action Center of Reform Judaism (RAC), over 300 Reform Jewish activists participated in MM4J. Associate Director of the RAC Barbara Weinstein explained that the RAC's participation in MM4J was rooted in the Jewish "responsibility to break the bonds of oppression for all people." She noted that "it is important for us to come together and make clear that we stand for justice [for] many people, including members of racial and religious minority groups [who] feel vulnerable" as a result of the current political climate.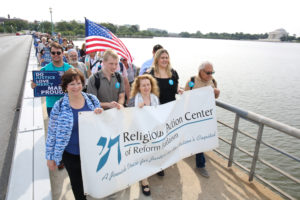 Rabbi Daniel Kirzane of The Temple, Congregation B'nai Jehudah in Overland Park, Kan. participated in the march, having received an email about it from the RAC following the death of Heather Heyers at the Aug. 12 white supremacy protest in Charlottesville, VA. Though the RAC's "participation in the march [wasn't framed] as a response to Charlottesville," Kirzane commented "the connection was undeniable."
At MM4J, Kirzane met a student from a Christian seminary in Virginia who "was making a concerted effort to meet and take selfies with many different people" at the march. "His effort to promote the diversity of the marchers stood out to me as an important message:" Kirzane said, "people from lots of backgrounds care about racial and economic justice and can come together… in order to try to make a difference in the world."
"By gathering thousands of like-minded faith leaders and giving us an injection of inspiration and motivation," Kirzane said, "the march sought to galvanize our efforts in our home communities. We'll have to wait and see what effects ripple out from this singular event. The messages that I heard… animate and encourage me to continue to work in partnership with other individuals and groups to work for a more peaceful and just society.