E. None of the above – The Burden of Standardized Testing
Julia Paul
November 24, 2017
Slider image courtesy of Flickr.
You wake up on Saturday morning anxious and exhausted from studying every night for the past month preparing for the ACT; a test that will determine your future in college.
You sit down next to the kid breathing heavily out of his mouth because it is the only spot open in the room, take out your calculator and a handful of  #2 pencils, petrified for the next 4 hours of filling in bubbles.
Standardized testing, a sensitive topic among high school juniors and seniors, are examinations that are administered and scored in a predetermined, standard manner. The emphasis on this method of testing, including the SAT and ACT, both of which attempt to forecast how well high school students will perform in college, has grown rapidly in the past decade. These tests, taken in an artificial environment, determine the fate of students' post high school graduate career. But what are these tests really measuring, and are they truly worthwhile?
How can one test, taken on a random Saturday morning, be reflective of our vast knowledge and ability?
Standardized tests are created by the world's leading tricksters, designed to assess a student's problem solving ability and "measure what you learn in high school to determine your academic readiness for college," according to ACT.
The negative consequences that commercially produced machine-scored standardized tests produce have lasting effects on the test-takers. In an article for the Washington Post, Valerie Strauss identifies numerous problems that arise with standardized testing. A few of these challenges include being "unavoidably biased by social-class, ethnic, regional, and other cultural differences. They unfairly advantage those who can afford test prep, [and] they penalize test-takers who think in nonstandard ways (which the young frequently do)."  Strauss adds that they also "give control of the curriculum to test manufacturers, [and] perpetuate the artificial compartmentalization of knowledge by field."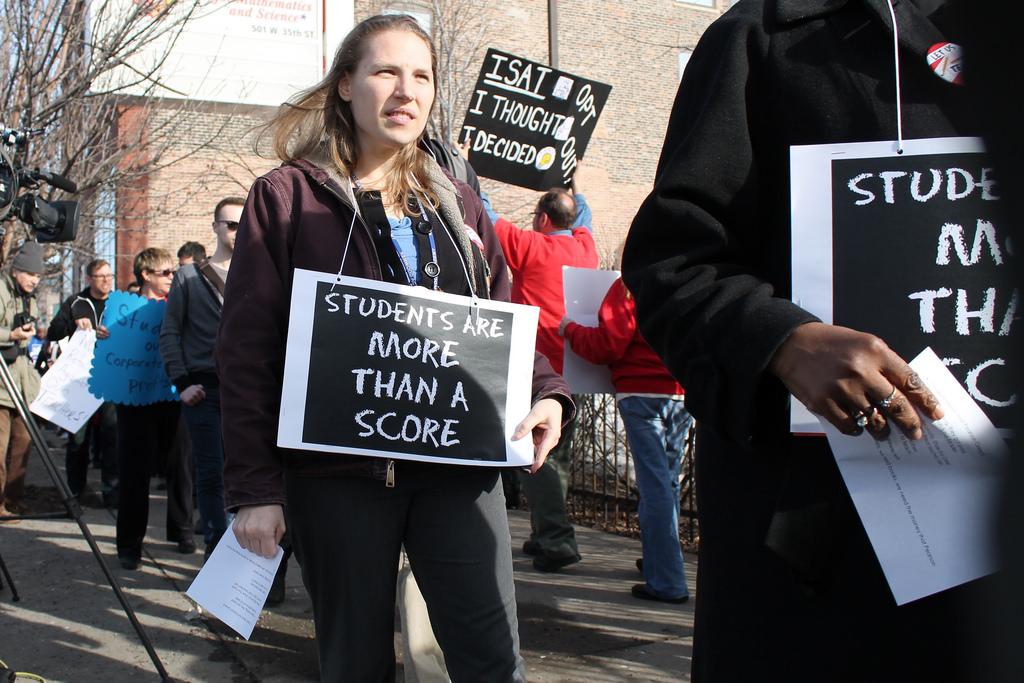 According the the National Center for Education Statistics, about 20.4 million students enrolled in American colleges and universities in 2017, constituting an increase of about 5.1 million since fall 2000. With a consistently growing college enrollment rate, admissions counselors are viewing thousands of applications, making standardized test scores an efficient way to quickly separate students without delving into the applicant's other assets. However, standardized tests are not an accurate reflection of a student's knowledge.      
Micah Margolies, an English and math teacher at the Hyman Brand Hebrew Academy (HBHA) and an ACT/SAT tutor, points out that the test questions are very different from the type of learning we do in school.
"Typically, for example," explains Margolies, "the science section on the ACT looks virtually nothing like what anyone does in science class. Usually in a high school science class you're doing experiments, writing results, creating lab reports."
The result of these tests end up measuring people's natural ability to take tests well and their preparedness for the test, which constitutes just "one of many useful skills to have in school," says Margolies
For most colleges and universities, scores on the SAT and ACT, along with the student's GPA,  are regarded as the most important factors in determining their admission. Laura Hewitt, Director of Testing at HBHA, admits that these numbers are "just a piece of the picture of high school students." Although these numbers can be useful to admissions counselors, they must use these numbers carefully, as one of many metrics for determining a student's acceptance.
So what else can colleges look at in the same regard as test scores?
With a growing number of students applying to college every year, it becomes increasingly hard to distinguish individual students. Hewitt explains that schools "have to look at the whole package. They have to look at your resume, your essay, your teacher recommendations."
Schools should be willing to admit that maybe a student's GPA or test score isn't quite what they usually look for, but their leadership ability, passion and ideas presented in their essay, and even their personality would be a good addition to the school.
Margolies concludes that "really, anytime we can move away from just turning students into a number and instead evaluat[ing] them as individuals, it's a good thing."
Some colleges, including Pitzer college, Colorado College, Bowdoin, Bates, and Wesleyan are now choosing to move away from requiring students to submit standardized tests and instead, putting a larger emphasis on the student's extra-curriculars and essays. Even some of the nation's top, most selective colleges and universities are converting to being "test optional" and instead are requiring the student to send in an additional essay or piece of work and more.
Davidson college, a selective liberal arts school in North Carolina requires a peer recommendation, understanding that a close friend knows the applicant in a different way than their teachers, counselors, principals, or advisors know them.
University of Southern California requires students to fill out more personal fun facts about themselves including their favorite snack, nickname, favorite book, and more. These recent trends of delving further into the personality and characteristics of an applicant allows schools to conduct a more "holistic" approach, which almost all schools claim to pursue.   
In the future, hopefully colleges and universities will take larger strides in the direction of truly holistic reviews by putting less of an emphasis on the numbers and more of an emphasis on student as a whole. Maybe students could send in a video of themselves to the school if they could not get an interview. Maybe students could submit an assignment they completed well with a teacher's comments, or a sample of their in-school writing. There are so many ways that schools can gain more detailed information about their applicants aside from their test scores, they just need to ask!