US Secretary of Education Betsy DeVos' Visit To Kansas City Sparks Protest
Eliana Schuster
November 27, 2017
[et_pb_section admin_label="section"]
[et_pb_row admin_label="row"]
[et_pb_column type="4_4″]
[et_pb_text admin_label="Text"]
Slider Photo by Eliana Schuster
Kansas City, Mo. – It is early Friday morning on Sept. 15th. Kansas City Academy (KCA) junior Kairo Smith is skipping school today. Just days before, KCA's head of school Kory Gallagher informed the school community that US Secretary of Education Betsy DeVos would visit the school as a part of her tour of the Midwest. As KCA's students and faculty gear up for the onslaught of cameras, a crowd of protesters gathers across the street in the parking lot of Crossroads Church.
The previous afternoon, Smith's art teacher approached him, asking if he would teach DeVos how to make a pinch pot in an art class photo-op. Smith declined the invitation, saying "due to [Devos'] stances [on education] and my lack of mental motivation, I just couldn't be in a room full of cameras with someone who has so much ignorance." Instead, Smith opted to spend his morning across the street, toting a poster, and listening to a series of speeches protesting DeVos' political agenda.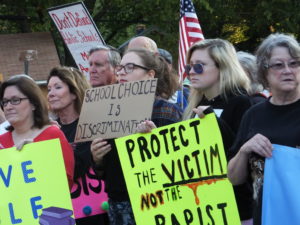 Immediately after DeVos' visit to KCA was announced, speculations arose about her true motives for visiting KCA as opposed to any other potential schools in the Kansas City metropolitan area. Among these speculations were suggestions that her visit was prompted by KCA's relatively large number of students who identify as part of the Lesbian, Gay, Bisexual, and Transgender (LGBT+) community.
"I feel like she heard that [KCA]'s a bit different," Smith said, "because we definitely are different from what she's used to. In all reality, I think it's more of a photo-op than anything else. [it's as if she's saying] 'I'm tolerant, see! Look at me, I'm around all these weirdos!'"
Ana Garcia-Ashley, Executive Director of Gamliel, an organization that trains community leaders to "unite people of diverse faiths and races," was present at the protest and shared Smith's sentiment. "[DeVos] strategically choose[s] these schools that can make [her] point" that private schooling is successful and should merit the support of school vouchers, Garcia-Ashley said.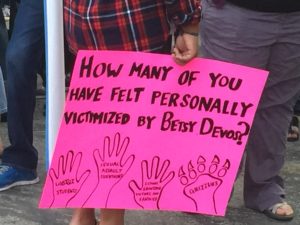 School vouchers, one of the main issues on DeVos' political agenda, would allow parents of students in private schools to divert tax dollars from public to private schools of their choice. Proponents of school choice argue that private school parents should not be forced to fund an education system which they do not use. Opponents argue that public schools are crucial to the creation of functional members of society, and that they affect everyone, even those who do not have children enrolled. They fear that the allowance of school vouchers would pull needed funding away from the public school system, leaving it vulnerable and ineffective.
"I'm not against school choice," Garcia-Ashley said, "I'm not against charter schools. What I'm against is destroying an education for everyone so that just a few can get a good education."
Rev. Rodney Williams, President of The Kansas City, Mo. Branch of the NAACP, takes a strong stance against school vouchers. "It is counter to the development of public schools," Williams said, "and whenever you have policies that are not pro-public school, they actually extract money from our school systems. I believe that is an attack against true equality. We need for the attack to stop."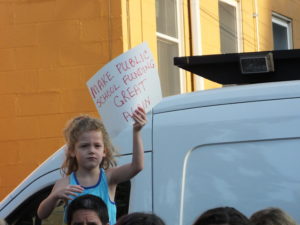 Members of the KCA community were concerned not only with DeVos' political agenda, but also by the school administration's choice to allow her to visit. Mary Statz, co-founder and former principal  of KCA attended the protest. "I'm a little bit passionate," she said as she stood to the side watching protesters of all ages. "I love the school, but I disagree with the decision to bring her here. I think it's a publicity stunt that's being used at the school. I believe in public education. I believe in all education, [and] she's destroying our public educational system. You can't have a country that is democratic if you do not have public education."
"I hope that our LGBT+ community, the faculty, and all the people who have to be here today will be protected," Statz added.
Junior Kairo Smith echoed Statz's sentiments, saying "this whole situation has put such an incredible amount of stress not only on the students but also on the teachers who've been working hard to make sure everything goes as planned and to tend to [DeVos'] needs as much as possible, and it's just been rough on everyone. It's been terrible."
[/et_pb_text]
[/et_pb_column]
[/et_pb_row]
[/et_pb_section]