The Rams are Back and Eager to Get on The Court
Mirra Goldenberg
December 6, 2017
Slider photo by Julia Paul
It's that time of year again- basketball season is back! The Rams have eagerly waited throughout the fall for the 2017-18 basketball season to begin. Each year brings new coaches, new players, and new opportunities. Jeremy Gutovitz has come on board this year as the girls assistant coach alongside Perijo Maddox, who has been coaching at Hyman Brand Hebrew Academy (HBHA) since 2011. Coach Damian Brown returned for his second year as the varsity boys coach.
To kickstart the new season, HBHA's Upper School Student Council planned a pep rally for the entire school with exciting games and cheers. "It was really funny when all the boys' names were announced…I also liked the trivia part," fourth grader Dani Glickman said. From kindergarteners to seniors, everyone was excited for this year's basketball season to commence.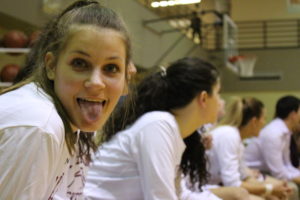 Assistant coach Jeremy Gutovitz is already pleased after just a few short weeks working with the high school girls team. "I love it!" he says, "the team has a ton of energy and great personality." As a former Rams athlete, Gutovitz's "best basketball memories came from HBHA, and I've always had interest in some form of coaching…I might yell and scream a lot, but the smiles and laughter definitely outweigh the noise," Gutovitz said.
Every basketball season for the Rams comes with its challenges and struggles, but "I'm looking forward to the progress of the team throughout the year. I've already noticed significant improvement in the toughness and skill levels of everybody," said Gutovitz. "I can't wait to compete for a conference championship! Go Rams!"
Working with Gutovitz and Maddox this year as the girls' manager is junior Josh Kolkin, who "feel[s] like being manager is the perfect position for [him] to have in any basketball related activity." Kolkin has always been a supportive fan of the Rams, and is therefore "excited to see how the Rams will prevail this season."
In addition to the girls team, the boys varsity team stands out each basketball season for their hard work and enthusiasm on and off the court. For several years, the HBHA boys varsity team has struggled to get as many players as the girls team. However, they always bring great skill and teamwork to the court. Senior Jacob Bell has been on the team since he was a freshman, but "it's not really that different from last year, since there was only one senior on the team," Bell says. He "think[s] this season is going to be really great. Coach D[amian Brown] is working us really hard."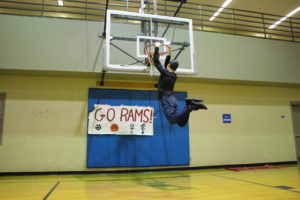 Following the pep rally, the boys and girls teams had their first games of the season against Alta Vista. Both teams fought hard throughout their games resulting in two wins! The girls' final score was 33-26, and the boys' final score was 63-47. Everyone is overjoyed by these incredible first wins of the season and cannot wait to see what the  Rams will bring.