The History of Martin Luther King, Jr. Day and What it Means Today
January 15, 2018 marked the 35th anniversary of the establishment of the national holiday, Martin Luther King Jr. Day. As the holiday has become more celebrated, many Americans choose to honor Dr. Martin Luther King, Jr. by giving back to their communities. From serving food to the homeless to volunteering at a local food bank, this day is known for commemorating Dr. King and continuing his legacy.
Anthony Bolden, an Associate Professor of African and African-American Studies at the University of Kansas, said that to him, MLK Jr. Day was a day for "doing things that help people live better and… respect[ing] each other with the things they say and do". To him, the day is a symbol of unity and love, where people all around the world can come together and remember what MLK stood for: justice.
This day, however, has not always been seen as constructive, or even welcomed with acceptance. The establishment of the holiday was thoroughly debated in Congress. When the day was first announced, there were numerous riots that took place around the country. The struggle for acceptance of the holiday was long and difficult, but most Americans have now acknowledged the importance of Dr. King's ideals and actions.
Shortly after Dr. King was assassinated in April, 1968, there was talk of creating a holiday in his honor. John Conyers, a Michigan Democrat, introduced a bill for a national holiday to be put in place in honor of Dr. King. It was presented to the U.S. Congress only a few days after Dr. King's death. When the legislature refused to vote, he tried to find other ways to gain support and introduced similar bills every year for 15 years.
In 1968, Massachusetts Republican Edward Brooke pushed for January 15th to become a day of "public commemoration" for Dr. King, but he did not suggest that it become a national holiday. In 1971, the Southern Christian Leadership Congress (SCLC) made a petition to create a national holiday which was signed by more than three million people. However, the holiday was still not established.
By the late 1970s, support for the holiday became overwhelming with over six million signatures and an endorsement from President Jimmy Carter. Stevie Wonder even wrote a song to honor Dr. King's birthday, which caused even more people to push for this holiday.  Finally, in 1983, on the 15th anniversary of Dr. King's death, President Ronald Reagan signed the bill causing the long-awaited dream to become a reality.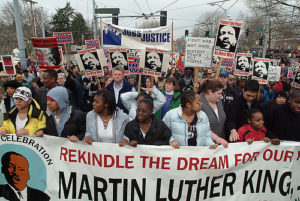 Bolden remembers when the day was first recognized. "I don't remember celebrations of his birthday until 1980 when singer and musician Stevie Wonder… began celebrating King's birthday" said Bolden. He explained that, since his birthday is the same as Dr. King's, he always had a personal connection and had his own way of celebrating even before the holiday came around.
The first Martin Luther King, Jr. holiday was celebrated throughout the country three years later, in 1986. In Atlanta, Dr. King's hometown, people held readings, religious ceremonies, and even a parade in his memory. His wife, Coretta Scott King, and Vice President George Bush, went to MLK Jr.'s grave to pay their respects and place a wreath on his tombstone. However, not everyone throughout the country supported the establishment of the holiday — some states chose not to observe the holiday at all.
Many cities were openly against the holiday. In Buffalo, N.Y., a sculpture of Dr. King was covered in white paint. In Arizona, even though Governor Bruce Babbitt made it a paid holiday right before his term ended, the next governor, Evan Mecham, repealed the decision.
Despite the controversy surrounding the holiday, there were parts of the United States that stood up for Dr King's day. The National Football League (NFL) threatened to move the Super Bowl, which was originally supposed to take place in Arizona, if the holiday was not reinstated. Governor Mecham created an unpaid holiday titling it a "Civil Rights Day." Because of this, the game was moved to California at the Rose Bowl.
The struggle to gain acceptance for the holiday lasted until 2000, when South Carolina became the last state to make this day a paid state holiday.
Martin Luther King's holiday is now frequently celebrated by citizens hoping to improve their city and to remind others about Dr. King's message. Many families in Kansas City go to Harvesters, a local food pantry. Volunteers sort vegetables into sacks, weigh frozen items, and pack up food for children in need.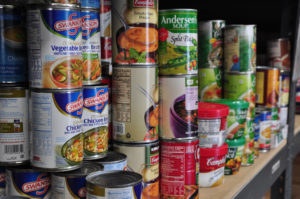 Bolden said,"MLK Jr.Day is a chance for us to honor universal love. We won't always like everyone, and we can't always agree. But if we truly believe in human love, we can have a much better world."