Governor Greitens: Facing Impeachment
Slider photo courtesy of the Whiteman Air Force Base.
In the late afternoon of Thursday, Feb. 22, 2018, Missouri Gov. Eric Greitens was indicted based on allegations of sexual misconduct and blackmail of a woman with whom he allegedly had an affair in 2015. The Missouri court system in St. Louis charged him with a first-degree felony for invasion of privacy.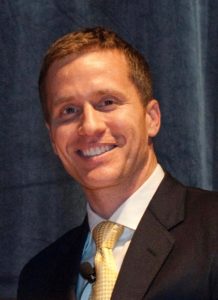 Gov. Greitens allegedly took a photograph of a woman without her consent and threatened to release the photo if she publicized their relationship. The woman, whose name has not been released to the public, was recorded unknowingly while having a phone conversation with her ex-husband about her affair with Gov. Greitens, days after her affair had first taken place.
In the phone call, the woman explained to her ex-husband what had happened. On an early Saturday morning, she came to Greitens' house and proceeded to have consensual relations with him. After this a picture was taken of her without her consent. She recalls that she saw "a flash… and he said 'you're never going to mention my name, otherwise there will be pictures of me everywhere.'"
For many years, her ex-husband did not wish to leak the story, but not long before the conversation came out, he had been questioned by law enforcement. Post questioning, he decided to go public with the story because he believed it would inevitably be publicized. The recorded conversation was provided to a local news station without the woman's knowledge or consent.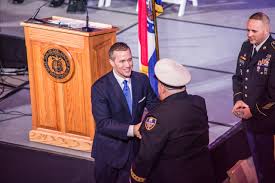 Although at first the governor refused to clearly address the allegations, he adamantly denied any accounts of blackmail. He did admit, though, that the affair had taken place.
Since this story came out, multiple business partners, senators, and other legislative bodies have urged Gov. Greitens to step down from office. One of his business partners, David Humphreys, who gave two million dollars to Greitens' campaign,  has recently called for Gov. Greitens to resign.
Illinois governor Bruce Rauner has also advised that Gov. Greitens resign "in the best interest of Missourians." Other Lawmakers have been investigating Gov. Greitens' case and are considering action against Greitens,  including calling for his impeachment.
For a while, the case was under investigation and action had not taken place. Recently, though, lawmakers have found that this is not Greitens' only crime.
Grietens is now under another investigation that connects to his campaign. Greitens, who was previously a part of a nonprofit veterans charity called The Mission Continues, obtained the charity donor list and illicitly used it to fundraise his campaign.
Many people are now outraged. Even more people have spoken out further for Greitens to step down. This crime created another serious and not so far-fetched reason to support his impeachment.
Edward Dowd, Greitens' attorney, explained that any prosecutor with a similar one-witness case would dismiss the case if the witness could not clearly remember a phone or camera being used. The woman had previously stated: "I never saw a pic. I may have dreamed I saw a phone there. But, I don't know."
What does Greitens have to say about all this? So far, he has said very little specifically in response to the alleged crimes. Greitens has persistently fought against the allegations, and has made the statement time and again that he "will not be resigning from the Governor's office."
Greitens' criminal trial is set for May 14.