"Shalom yeladim!" Mr. Haas Says Hello and Goodbye to HBHA
Mirra Goldenberg
May 7, 2018
"Shalom yeladim [hello kids]." These are the words spoken by Howard Haas every time he enters a classroom. All students reply, "Shalom Mr. Haas!" Anyone who knows Howard Haas, knows that this is his signature phrase at the Hyman Brand Hebrew Academy (HBHA). Everyone, regardless of their age, always responds to Haas' greetings with a huge smile. This is because of the welcoming energy he brings with him wherever he goes.
Haas has been apart of the HBHA family since 2007, this being his 11th year as the head of school. He plans to leave at the end of this school year to embark on a new adventure and the next phase of his life. "I've always had great adventures in my life… and the adventure started… when I lived in San Francisco," Haas said.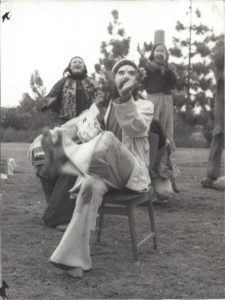 "When the war broke out on Yom Kippur in Israel, I traveled over to Israel and I brought together a troop of players comprised of Muslims, Christians, and Jews, and we traveled around Israel and did shows in Hebrew and Arabic." Haas "lived in an Arabic village, and the whole idea was to show when Muslims, Christians, and Jews work together, there can be positive happenings."
Eventually, Haas returned to California to become a school administrator, but his "next big journey was when [the] Columbine [shooting] broke out… I quit my job and I traveled around America in a van with two Hispanic guys, and we interviewed kids on why they were killing each other. It was actually called the Children's Crusade." Haas traveled the country for two months, "stopping off in public parks and inner cities in the suburbs asking kids why they were killing each other. We actually came out with a book, and then we consulted across America for two years about violence in cities."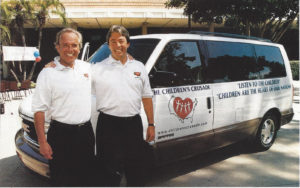 After Haas' journey across America, he got his first long term job at a Jewish day school in California where he worked for six years. "I got a phone call from a headhunter in New York. He said 'do you want to go to Kansas City?' I said, 'No! Why would I want to go to Kansas City, I'm living here in beautiful southern California.' But, I ended up coming, and I absolutely fell in love with the community, and that's where I'm sitting right now." Through his work at schools, Haas realized his love for working with children. There was nothing he would rather do than be with them every day of the week.
Haas has always been a huge asset to the school and community, making students and teachers smile ear to ear. "It has been wonderful working with Mr. Haas!" Art teacher Kelly Reichman says. "He is so kind and his door is always open. And, he is a huge supporter of the arts!"
Students especially enjoy Haas working at HBHA. "Everyday when I walk into school he says, 'Hi Julia!' and it makes me feel really happy," said senior Julia Paul.
"It was such a wonderful environment for me here," said Haas. "I wanted to create an environment where young people would hopefully be inspired to take these great journeys and adventures to make the world a better place."
Haas has been working at schools for 50 years, and he has "never been in a place like Hyman Brand Hebrew Academy. The feeling of family here, the joy of the kids, the great staff, and great administration; I've never experienced anything like it before."
Haas' days are pretty booked; by hopping from classroom to classroom, he always finds a way to make someone's day. "He knows every child," Reichman says, "and extends his love, concern and kindness to each one. He will always cut short a conversation with an adult in order to say hello and hug every student that walks by."
Reichman "will miss [Haas'] loving spirit [and] his Shalom Yelodim!"
Year after year, Haas brings joy and love to everyone at HBHA and he will be dearly missed. His outgoing personality and constant happiness are what make him so dear to everyone around him. Haas has enjoyed being apart of the HBHA family and will forever be remembered. Soon, he will say his last "Shalom yeladim," but instead of saying hello, he will be saying goodbye.
Haas has spent these last couple of months "just appreciating what [he has] been given in the last 11 years here. [HBHA] certainly will be missed, but I will carry it in my heart."