We Can't Escape Anymore: How Movies and TV Have Become More Politically Involved
Josh Kolkin
October 14, 2018
Slider image by Josh Kolkin.
2018 so far has definitely been the year of uproar, and this extends beyond media coverage, marches, and protests. Movies and TV increasingly use political issues as inspiration to create entertainment that comments on our current American climate. This spike in social commentary is arguably correlated with Trump's Presidency.
Trump's presidency has made our country a difficult and uncomfortable place in which to live with weekly and salacious news stories about Trump and the executive branch. Because the media scrutinizes him, we watch him make public mistakes and outbursts that leave the American population collectively cringing in distress. It is exhausting to be bombarded with new issues so often, but a lot of our current history has been used as inspiration by our media entertainment to do what it does best: offer social commentary.
However, because of this, it doesn't allow people to escape our reality to watch a movie or a TV show anymore. Instead, it forces us to pay attention to the issues at hand so we may no longer ignore them.
For example, the women's movement in America has been a prominent topic in our nation. It has been reignited by sexual harassment and assault accusations in the media industry, certain remarks said by our own President Trump, and the hot topic of a woman's right to choose when it concerns having an abortion.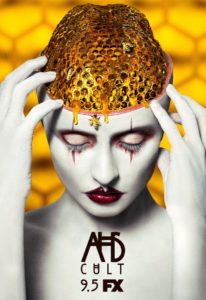 The season picks up with the 2016 election that shows both those who were happy with the outcome and those who were completely distraught. The season in its entirety creates its own exaggerated form of adversity towards women with a cult. It is headed by Kai Anderson (played by Evan Peters) and executed with a misogynistic agenda where he aims to get himself into the Senate in order to push legislation that will create more obstacles for women and exclude them from the workplace and exile them into the kitchen. The cult then goes on with their radicalistic actions like attacking a Planned Parenthood center and murdering women aimlessly. That is until the underdog hero, Ally Mayfair-Richards (played by Sarah Paulson) rises to power, defeats the cult and Kai Anderson, and takes the Senate seat Anderson was trying to win.  Anderson expressed in the season that "there is nothing more dangerous in this world than a humiliated man." Acknowledging his belief, Mayfair-Richards responds to this message before Anderson is defeated and quotes one of our President's most infamous phrases when she says, "There is something more dangerous than a humiliated man, a nasty woman." Taking a prideful claim of the "ugly" comment.
This show comments on the political issue with the message that women are strong and powerful. This has been a reoccurring topic in other shows as well, such as "Shameless," in their current season, they have been commenting on the gender wage gap in America along with other issues such as discrimination against the LGBTQ community and racism. "Shameless" offers a unique take because the show is a comedy that pokes fun at our current political climate and the absurdities we see on a day to day basis happening in our political system.
Racism, unfortunately, has not been a new issue in America, but many have noted people of color being subjected to racial profiling and police brutality.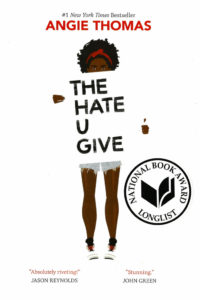 "The Hate U Give" is a coming of age story that is about a young girl named Starr Carter (played by Amandla Stenberg) who is stuck in between two worlds, the poor and mostly black neighborhood where she comes from and the wealthy and mostly white prep school she attends.
The uneasy balance of her two worlds is shattered by the fatal shooting of her lifelong friend at the hands of a police officer. Facing the pressure from all sides, Starr is forced to find her own voice and stand up for what is right. The movie advocates for an end to the racial abuse and profiling that has been dealt out time and time again by our law enforcement nationwide and sends a message that "enough is enough." Since Ferguson, The Black Lives Matter movement has risen to prominence in our country, and "The Hate U Give" is the cinematic embodiment of their message, giving them a voice they did not have before.
However, our recent media is not the first time we've seen movies and TV shows promoting a political issue. There have been shows that are known for their direct setting in politics or based upon a political issue. Shows such as "West Wing," a hypothetical democratic presidency, "Law and Order: SVU," advocating for sexual assault, and even "Saturday Night Live," a TV staple known to make fun our current political system and climate.
Comedy is a commonly used tool when commenting on politics as it strikes the nerve of whomever the joke targets. "Saturday Night Live" makes fun of President Trump to show the ridiculousness of his presidency and how he should change the way he is doing his job. They do this to get the attention and sometimes offend those they are talking about.
TV and movies are also not the only means of exaggerating a political stance. Comic books used to be, and still are, a mode of pushing an ideal system. The X-MEN comics created by Marvel and one of their most infamous storylines are an allegory for the Civil Rights Movement, one of the most monumental times in American history. The comics had the consistent message that mutants (black people) and humans (white people) should be able to live in peace and harmony without racism and bigotry.
Media like this is an art form that has chosen to take up the responsibility to use our country's issues as inspiration and comment on them in their work. It has emerged as one of their jobs, and it is what forces us as the public to not ignore the issues. There comes a time when we have to say we've had enough and do something about it.  If we ever want to create a better country for ourselves and for future generations, it is our responsibility to leave the world better than the way we found it.