Slider illustration by Anna Clauer.
Everyone has heard of Justice Ruth Bader Ginsburg and her notorious work on the United States Supreme Court for over 25 years, but how did she get started in law? How did she get to where she is today?
On the Basis of Sex, directed by Mimi Leder, portrays Ginsburg's early career working in law and her struggle to end sex-based discrimination laws. It focuses around a not-so-well-known court case of hers that ultimately led to the demise of these laws, and it depicts the importance and influence it had on later cases similar to the one she took up.
The movie's biggest message is that even the unfair but seemingly unchangeable things in life can be amended through hard work and determination. The movie illustrates how Ginsburg was resilient and passionate about her work– even with the countless setbacks that she had along the way.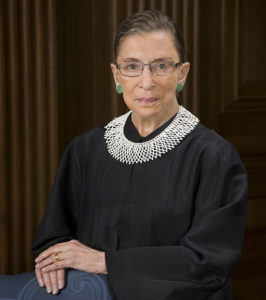 The film starts out by giving a look into her later college years at Harvard Law School. Because of her intelligence, she was invited to a dinner with other students and the dean of the school, who, at the time, was Nathan Pusey. The scene introduces a key point that shows the societal norms of the times with the mindset that men were superior and that women weren't fit to do what had traditionally been categorized as male careers, like practicing law.
Ginsburg and her female colleagues, who had been the only nine women in a class of 500, were asked why they were attending Harvard, and specifically, why they were taking the place of a man. Much to the dean's disapproval, she joked that she was there to "learn more about his work, and to be a patient and understanding wife." She knew that her place was frowned upon, and she had to keep her optimism to keep her position. From the beginning, Ginsburg had to face the reality that many people were against her and her progressive ideas for an equal society.
After moving to New York with her husband, Martin Ginsburg, due to cancer treatment he needed, she finished her studies at Columbia Law School while completing her own work, going to the classes Martin couldn't attend since he was sick, and becoming the mother of her first child, Jane Ginsburg. The movie clearly portrays her struggle both at home, and with finding a law firm that would hire a woman. But even with all of these impediments, she kept fighting for what she knew was right.
The film centers around her family. Her husband, who worked alongside her in cases,found a job at a prestigious law firm quickly while she was left looking from building to building for work to support her family. The key relationship, though, is between her and her daughter. Ginsburgh believed in a passive, peaceful approach to changing the law while her daughter went to rallies and tried to change society with her voice. The connection between them shows the differences in generations, and their approaches to change. These scenes exemplify the power of younger people, and the influence that teens have on their future.
The main focus is the case Ginsburg took up about a tax law that specifically discriminated against men. She knew that there was a slim chance she would be able to change laws discriminating against women in a mostly-male court, and this was a way of taking on a case that she knew would appeal to men. In this process, the movie shows how many of her friends and colleagues severely distrusted her and thought that she would fail. But when she hits rock-bottom with seemingly no hope, Ginsburg declares that nobody "get[s] to tell [her] when to quit."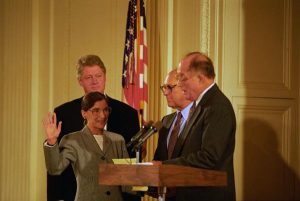 In all, the movie, if anything, undermines the magnitude of her case and the life-changing impact that it had on sex-based discrimination laws. Rotten Tomatoes, an American review website for shows and films, explains that the main thing this film lacks is that it is "nowhere near as groundbreaking as its real-life subject." For example, after Ginsburg wins the trial, the film abruptly ends. It gives no further interpretation or examples of how the case affected future cases.
Similarly, viewers were displeased with the blandness of the movie. As a biopic, it had to be factually correct, and because of this, the directors and writers weren't able to, or didn't, take many artistic liberties to heighten the story.
Additionally, the movie focused slightly too much on Ginsburg's setbacks rather than her strengths. Though Ginsburgh is portrayed as persistent and resilient in the film, it fails to show her sheer strength and courage in many ways other than depicting her in a small manner, and someone who is unsure of herself, when, in actuality, she was, and still is,one of the biggest faces of change.
But even with these minor issues, the overlying effort and passion that were put into this film is clear. Though it may be lacking, it still emphasizes the impact that Ruth Bader Ginsburg had on the world around her, and it still highlights the revolutionary steps she took to make the world a better place.