Adding a New Paige to the Book of HBHA
Shai-El Luger
March 11, 2019
Slider image by Bree Katz.
On an average Wednesday morning, walk right into Ms. Renee's room, and you will see Paige Lambert, hard at work on Hyman Brand Hebrew Academy's 2018-2019 yearbook Chronicles. Paige Lambert enrolled in HBHA this year, and she is a sophomore in the class 2021.
Lambert loves to write stories and articles, so she decided to join Publications class: "I like to write. I like to write opinions" Lambert says. Paige is Canadian, comes from a family of four including one 12-year old brother and a Westie Mix named Tucker. Her father is a Canadian, and lives in Canada, so Paige and her brother visit him every winter break.
Her mother moved to Iowa in the fifth grade, and years later, she decided to move to Kansas because of all the great teaching opportunities. Paige has lived in Kansas her whole life.  When Paige was asked about whether she thinks she made the right decision moving to this school, she said yes, and that "everyone here is just so much more friendly than [in] my old school."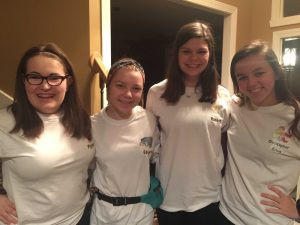 Paige decided to come join the students at HBHA because she wanted a school where you can go to soccer practice, work on the yearbook, preform in the play, and still have time to do your homework without rushing after school.
"At my old school, I couldn't do sports, be in the newspaper, and get homework done on time. It was practically impossible. But here, you can do that easily" said Lambert.
Paige has never gone to a Jewish school before, so at first, the Hebrew and Jewish Studies classes were a little challenging for her, but after a few weeks, she was much more confident. She learned to recognize the Hebrew letters, and she was soon able to read Hebrew in cursive. At Paige's old school, she felt left out because her friends were Evangelical Christians.
"I like Jewish Studies because I get to actually learn about  the Torah and the rest of the Tanakh. I really enjoy Jewish Studies, and Rabbi Sosover is really cool." Paige loves learning the stories of the Torah, and enjoys taking Jewish Studies class.
Paige is an ambivert, which means she is an extrovert at times, and an introvert at other times. She enjoys talking with her friends near the lockers, and always gives a warm smile to anyone she meets in the hallway. When Paige was asked what her favorite school subject was, she said English class because she loves to write. The thing she loves to write most of all is opinions, and she loves to read books with messages in them, and discuss the book later. She loves discussing opinions with all of her friends. She enjoys participating in Taste of Shabbat every friday, and enjoys being a role model to the younger kids in her family.
Paige is also in the high school play, and she enjoys acting and performing. She has fun practicing for the play with her friends. "I really enjoy theatre, and musical theatre and singing, and everyone seems to have a good time."