Israel launches "Beresheet" spacecraft, beginning a two month journey to the Moon
Nina Schultz
April 3, 2019
Slider image by Nina Schultz.
Cape Canaveral Fla.-  On Feb. 22, a rocket was launched with an Israeli spacecraft lander attached named "Beresheet." A lander is a spacecraft that is specifically built to descend toward and rest on a planet or moon. "Beresheet" is scheduled to land around April 4. Once the spacecraft lands on the Moon, it will gather information about the Moon's iron core and measure its magnetic field. This occurrence is huge for Israel. Also,  there have only been three nations that have successfully sent landers to the Moon, so if "Beresheet" is successful, Israel will become the fourth nation to accomplish this objective. But this is not the first time Israel has attempted to launch a spacecraft.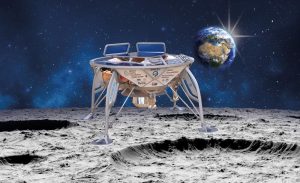 On Feb. 2003, space shuttle Columbia fatally crashed, killing the seven astronauts that were inside. Columbia was the first space shuttle to fly in space, and it had already completed 27 missions before it crashed. On board of the space shuttle was Israeli astronaut Ilan Ramon, who was the first and only astronaut from Israel.
In an interview before Columbia launched, Ramon said that he was proud to be representing "all Jews and Israelis." Zohar Flacks, the Director of Jewish Life at Hyman Brand Hebrew Academy thinks that Ilan Ramon "represented Israel when he went to space and did so with so much grace and pride that we all felt a part of what he was doing."
Since the fatal crash of Columbia, Israel has been working for years to get a spacecraft successfully to the Moon, and the building and engineering of "Beresheet" started in 2015.
"Beresheet" was built by an Israeli non-profit organization called SpaceIL. This organization was established in 2011 aimes to land the first Israeli spacecraft on the Moon. SpaceIL hopes to see "Beresheet" successfully land on the Moon and advance technology and science education in Israel.
For a while, "Beresheet" was only an idea for a future mission to the Moon. It took SpaceIL years to get all the funding for "Beresheet" together before they could even begin to turn their ideas into reality. SpaceIL launched a contract with SpaceX in 2015, which began the process and the engineering of "Beresheet."
SpaceX is a company founded in 2002 by Elon Musk, who is also the owner of car company Tesla. SpaceX manufactures and launches spacecrafts and rockets into space. Their mission is to "enable people to live on other planets."
SpaceX's Falcon 9, a rocket that transports satellites into orbit, had lander "Beresheet" attached to it as it took off. Falcon 9 then dropped "Beresheet" once it was 60,000 kilometers up in the sky, putting it into orbit around Earth. Now the space shuttle is in the process of a two month long journey orbiting further to make it to the Moon.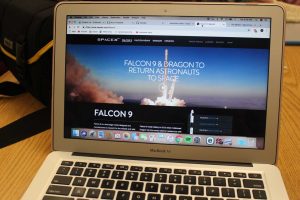 If "Beresheet" has a successful landing it will be a huge accomplishment for both SpaceX and SpaceIL. SpaceX has never before launched a spacecraft lander bound for the Moon. As for SpaceIL, this achievement could become the first Israeli spacecraft that has made it to the Moon. They have said that they are "committed to inspiring the next generation in Israel," and hopefully "Beresheet" will land, becoming a huge advancement for Israel.