Slider image by Mirra Goldenberg.
Measles, like any other illness, is a nuisance and a burden. Though not preventable in the past, there is a vaccine available today. But some groups refuse to take advantage of it. How could someone see a resource that could save them from a potential illness, and not utilize it?
Measles is an acute viral illness caused by a virus in the family paramyxovirus, genus Morbillivirus. It is usually characterized by high fever, nasal congestion, conjunctivitis, and rash that most commonly spreads from head to toe. Measles can range from mild to severe, with complications such as pneumonia, encephalitis, and death. Even with an illness as alarming as this one, some people still take issue in getting vaccinated.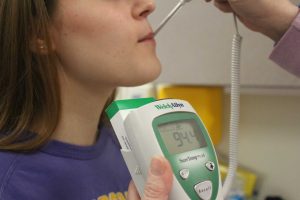 In the decade prior to the innovation of the measles vaccine in 1963, an average of 549,000 measles cases and 495 measles deaths were reported annually. Following a one dose measles vaccine program in the 1980s, there was a significant reduction in the number of cases reported in the US. Although, during this time, there were still a number of measles cases occurring in school-aged children who had received the vaccine.
By 1989, a second-dose vaccination was recommended to divert the recurring illness. Through the late 80's and early 90's however, a resurgence of measles occurred when over 55,000 cases and 123 deaths were reported. Following this, there was an implementation of two doses of the vaccine, which led to a further decline. By 2000, measles appeared to no longer be an issue in the US.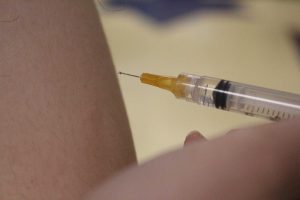 Even though measles seemed to be essentially "eliminated" from the US, there were still a median number of 56 cases per year between 2001 and 2008. 66 percent of those cases were found to be unvaccinated, and 16 percent had an unknown vaccination status. Over the next few years, the median increased to 130 cases per year. Among the 989 total measles cases reported between 2009 and 2014, 68 percent of them were people imported from other countries.
In 2014, the largest documented measles outbreak in more than two decades in the US, occurred in an under-immunized Amish community in Ohio over the course of four months. Later that same year and into 2015, an outbreak of 147 cases occurred in the Disney theme parks in California, later spreading to seven other states all over the US.
In late 2018, more than 275 cases of measles were documented in N.Y., making this the longest and most destructive outbreak nationwide compared to other occurrences at the time.
Measles cases in N.Y. have been concentrated among children from Orthodox Jewish families, many of whom attend religious schools lacking the requirement of immunization. Outbreaks in these communities began when unvaccinated travelers returned from Israel, and, due to measles outbreaks there, they were exposed to the virus. Obviously, the lack of a vaccine is a direct connection to outbreaks, so how can the decision be made against it?
Cultural identification is a huge aspect in immunization (or lack thereof ). Some Orthodox Jews, for example, believe that vaccinations are against Jewish law. Although, there are too many opinions on this topic to believe that there is a single law that prevents Jews from receiving vaccines.
Even though measles might predominantly be affecting these specific communities, it is easily spread and highly contagious. Most schools require immunizations to attend in an effort to avoid these fatal outbreaks, but what about the schools that don't? Aren't they contributing to the growing cases of measles in the US?
Religious practices are unquestionably important, but what about when they interfere with health? Pikuach nefesh or saving a life, describes a principle in Jewish law that the preservation of life overrides essentially any religious practices. If this is the case, how could anyone make the decision to take a potential life saving vaccine? Though there is no physical proof of someone contracting the illness, the potential complications should be sufficient proof.
Aside from individual well being, measles is highly contagious and can affect anyone. By refusing to vaccinate yourself or your children, you endanger everyone in your community. Getting the measles is not like an ordinary case of the flu that can be cleared up with fluids and rest in the matter of days. It is a life threatening illness that can impact millions of people.
———————————————————————-
*The views and opinions expressed in this article are those of the author and do not necessarily reflect the official policy or position of Rampagewired or Hyman Brand Hebrew Academy*