The Marvel-ous Captain Marvel is Sweeping the Nation
Shai-El Luger
April 8, 2019
Slider image courtesy of Wikimedia.
The plot of "Captain Marvel," directed by Anna Boden and Ryan Fleck,  is intricate and interesting, albeit confusing at some points. Carol Danvers, Air Force pilot turned super warrior, lives on the planet Kree-Lar and fights in the alien Kree Military against the evil Skrulls, alien shapeshifters who can become people they have seen before. On one of Carol Danvers' missions with the Kree Militia, she is caught up in a conflict with the Skrulls and blasted in an escape-pod to Earth where she met up with Director Nick Fury. A surprising character makes a return from the "Avengers" that long time Marvel fans will enjoy seeing again. The plot gets even better from there, and "Captain Marvel" continues to surprise fans with more plot twists.
Carol Danvors, AKA Captain Marvel, has no memories at all of her years in the Air Force or her life on Earth before joining the Kree Military. Sometimes, in nightmares, she sees memories that are confusing;. she sees a lady in her dreams with whom she feels a connection, even though she has absolutely no recollection of who she is at all. The dream-lady is later revealed to be someone important to Captain Marvel from her distant past. Some powers that Captain Marvel has are superhuman strength, superhuman durability, flight, and energy blasts that she can fire through her hands.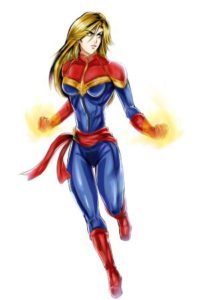 Danvers, played by well known actress Brie Larson, was cast perfectly. She said her lines perfectly and made me believe that she really was Captain Marvel, and not just some actress pretending to be Captain Marvel. Many Marvel fans enjoyed the fact that Nick Fury, played by Samuel L. Jackson, was joining us again for another Marvel movie- although this time without his well known eye-patch. Fans were especially excited for the moment in "Captain Marvel" that would explain how Director Fury lost his eye. I was not disappointed at all at the explanation, and I never saw it coming.
Another character portrayed well is the Skrull General, Talos, played by popular actor Ben Mendelsohn, who also played Director Krennic in "Star Wars: Rogue One." Ben Mendelsohn played his part with emotion, and action, and he's the perfect choice for the actor of Talos.
About half-way through the movie was a particular scene that long time Marvel fans were ecstatic to see, and a collective gasp filled the movie theatre as this scene played out. It explains the secret of how Director Fury got a certain powerful object, and how he had it in "Avengers." I was especially surprised to see this scene, but don't worry,  I'm not going to spoil it for you. Let's just say it involves Marvel "Infinity War," and explains an earlier plot hole in the "Avengers."
"Captain Marvel" takes place in the 1990's, and the props, stores, and streets in the movie were all designed to look like the 1990's, and they were portrayed well. Many millennials in the theatre watching "Captain Marvel" felt a burst of nostalgia for their childhood as they saw Danvers walking through an abandoned BlockBuster movie shop, hearing Captain Marvel jamming to "Man On The Moon," by R.E.M, or seeing her try in vain to use Alta Vista search engine on Windows 95.
"Captain Marvel" delicately chose the perfect 90's music for the movie soundtrack, and every song they chose was a wise choice, from "Whatta Man," by Salt-N-Pepa, to "Connection," by Elastica.
"Captain Marvel" starts with a beautiful tribute to the creator of Marvel itself, Stan Lee. The tradition of Stan Lee having a cameo in each and every Marvel movie is still fulfilled in this movie.
Some fans may say that their favorite character from "Captain Marvel" is Carol Danvers, or Talos, but the one character that stole every single fan's heart is not even an actor at all. It's an orange cat named Goose. While he may seem like just a supporting character, Goose is much more important to the plot than meets the eye. Nick Fury and Captain Marvel take Goose on the long journey to space, and that decision was more important than you would think.
I saw "Captain Marvel" the day after it came out, and as soon as the movie was over, I visited a popular gaming store across the street to find that my suspicions were true. On the wall, there was a collection of "Captain Marvel" bobble heads, but at the head of the collection, you would expect to see a bobblehead of Captain Marvel herself. However, in this case the store was filled with bobble heads of the famous Goose the cat. In fact, I was very tempted to buy one.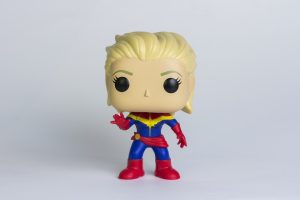 "Captain Marvel" is marvelous Marvel movie and made a good deal of money in the box office. It stayed true to the setting of 1990's, with its music, sets, and props. "Captain Marvel" has the perfect balance of humor, seriousness, and action. I hereby give "Captain Marvel" 8 out of 10 stars, and I will most definitely buy it as soon as it gets on DVD.