The Search for a New Mayor: What to Expect
Dennis Krolevich
April 8, 2019
Slider image courtesy of Stephanie Scott Huffman.
For Kansas City, the time has come to elect a new leader as Mayor Sly James leaves the throne vacant. This coming June 25, 2019, the KC mayoral election will be held, and each eligible voter must decide who they think will best represent the city. The winners of the primaries on April 2 were Jolie Justus and Quinton Lucas, but the field of candidates was impressive and there was an intense competition throughout.
Private attorney Alissia Canady is non-partisan and stands for the 5th district in the south and east parts of KC. She primarily wants to disperse equitable economic development throughout all parts of the city. Canady also desires to provide her constituents with better financial opportunities and is working towards funding affordable housing. As a small business owner she also wants to aid tax payers and build a strong community overall. Canady believes that a stable colony will inspire improved working conditions and in turn reduce gun violence. Finishing third in the primary, Canady got 13.46 percent overall and 7,514 votes.
Electric technician Clay Chastain is running for KC mayor for the 5th time after four failed attempts. Despite campaigning for office in KC, he actually lives in Virginia. Chastain claims that he lives in both areas and is willing to move to KC if he is elected mayor.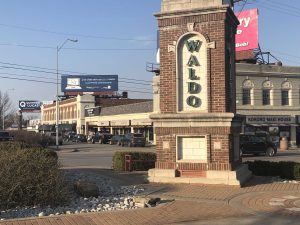 Aside from legal matters, Chastain is widely known for managing the light rail initiative where he proposes that $1.3 billion are put into building a railroad throughout KC. He believes that the bus transport system is outdated and ineffective for people's needs. Ending in 9th place on the ballot, Chastain got 0.92 percent of the vote with 514 votes.
Coming up next is the democratic businessman Phil Glynn who used to be a member of the Tax Increment Financing Commission. He has funded the construction of quality homes and has provided thousands of jobs to struggling communities. As for his aspirations, Glynn wants to shift the tax policies for impoverished neighborhoods so that there is compromise between financial suffrage and government funding. He also believes that a great amount of problems concerning poor citizens can be solved by investing in them. Finishing in 7th place, Glynn got 7.81 percent of the vote with 4,358 votes
Representing the 4th district and being personally endorsed by James is democratic councilwoman Jolie Justus. She serves as the Chair of the Airport Committee, vice-chair of the Finance and Governance Committee, and a member of the Transportation and Infrastructure Committee. Justus has spent two decades working for issues concerning social and economic justice and sustainable economic development. She has also reformed Missouri's criminal justice system and volunteers with several communal organizations. Winning 22.63 percent of the vote with 12,630 votes, Justus finished the primaries in 1st place.
Henry Klein is an employee of Bank of America and he most indefinitely works on 63rd and Prospect. He is a 'go big or go home' idealist, but he recognizes and seeks to fix notable issues in KC while running for mayor as a non partisan. Klein stated that too much money is put into the police department of the city with what service they deliver, and he does not approve of local control of the police. In regard to health food, Klein wants to organize better economic models for grocery stores to offer access to organic products that abounding areas do not have. Concluding the race with a mere 364 votes, 0.65 percent, Klein came in 10th place for the primaries.
One of the more radical candidates of 2019 is non partisan Vincent Lee, someone who discusses political issues in a straightforward manner. One of the most important qualit that Lee ties KC's issues to unfair tax policies, or as he remarks, "No taxation without representation." In other words, Lee thinks that the current management of taxes is the cause for a city's problems.
Despite his minimal funding, he claims to have attained popularity amongst the citizens of KC in eastern and western regions. Lastly, Lee brings up an important aspect in succeeding as mayor of KC, and that is being a full-time mayor and adopting a full-time council. Last place on the ballot goes to Lee, with 0.37 percent of the votes and 204 votes in total.
Councilman and practicing attorney Quinton Lucas represents the 3rd district as a member of the independent party, and out of all of his demands, he primarily wants to seek pathways out of poverty for KC. Lucas also thinks that illegal dumping is a serious problem and that consequences for committing this crime should be harsh. He also hopes to create more attainability to health foods and education for young students. Finishing in second place, Lucas got 18.43 percent of the votes or 10,287 votes all together.
Born and raised in KC, republican Steve Miller wants total equality for all of KC's regions regarding healthcare, financial aid, and education. In 2001, he founded "Turning Point," an organization that teaches people about chronic illnesses and how to prevent certain diseases. Miller also wants to work towards enhancing the police force, better transport, and infrastructure repairs with the money that has already been given by taxpayers. In other words, let people benefit from the taxes they are paying. With 12.18 percent of the votes, Miller came in 4th place and 6,800 votes.
Of the youngest candidates in the 2019 election, Jermaine Reed is bold, passionate, and determined to succeed as mayor of KC. Despite this being a recurring topic, Reed wants to use the city's finances adequately. He also seeks to raise the minimum wage to $15 an hour, thereby assisting low-income families. As someone who has experienced gun violence firsthand, Reed is incredibly expressive about the topic and is looking for ways to lower the mortality rate. He wants the children of KC to only have to worry about their education, not whether they will inhale their last breath or whether they will have dinner each night. Reed was in 8th place with 5.78 percent of the votes and 3,228 votes overall.
Republican Scott Taylor represents the 3rd, 5th, and 6th districts, and he has been a part of the Economic Development Corporation for eight years. Taylor is mostly working towards enhancing KC education as a whole, as he has served the Central School District Board, wants to increase teacher pay, and help parents and students with their careers. If he becomes mayor of KC, he will hold monthly town hall meetings to ensure democratic influence pertaining to the city's management of currency. Lastly, Taylor wants to fund public healthcare and has a vision for improving the areas east of Troost avenue. Ending in 6th place, Taylor attained 8,73 percent of the votes and 4,875 votes in total.
On the contrary, republican Scott Wagner represents the 1st district and serves as chairman of the City Council Finance and Governance Committee. Wagner is developing the east and wishes for equality with race and opportunity for colored people. He also demands more officers on the force due to increased homicide rates of today. Lively and healthy communities is something the Wagner believes everyone deserves, and as mayor of KC, he desires to achieve his goals for the future of the city. Coming in 5th place, Wagner gained 9.04 percent of the votes with 5,044 Kansas Citians choosing him.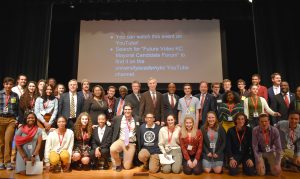 The questionnaire and discussion that occurred during the forum involved a few interactive activities, one of them being the participants make a list of six major problems in KC that were provided. Here are the results concerning eight speakers, as Scott Wagner was only able to join the program later on:
Alissia Canady: Gun violence, illegal dumping, affordable housing, equitable tax policies, environmental conservation, and preserving neighborhoods.
Phil Glynn: Gun violence, preserving neighborhoods, affordable housing, equitable tax policies, illegal dumping, and environmental conservation.
Henry Klein: Gun violence, preserving neighborhoods, affordable housing, environmental conservation, equitable tax policies, and illegal dumping.
Vincent Lee: Equitable tax policies, environmental conservation, affordable housing, gun violence, illegal dumping, and preserving neighborhoods.
Quinton Lucas: Gun violence, affordable housing, equitable tax policies, preserving neighborhoods, environmental conservation, and illegal dumping.
Steve Miller: Gun violence, equitable tax policies, affordable housing, preserving neighborhoods, illegal dumping, and environmental conservation.
Jermaine Reed: Gun violence, preserving neighborhoods, illegal dumping, equitable tax policies, and environmental conservation.
Scott Taylor: Gun violence, illegal dumping, affordable housing, preserving neighborhoods, environmental conservation, and equitable tax policies.
This year's election showcases a variety of candidates who have their own individual ambitions that they think will bring substantial progress to KC. All that is left now is for the electorate to select the best and most worthy mayor that this city has ever seen.