New School Psychologist: Sara Whelan Joins the HBHA Family
Madi Bell
December 15, 2019
Slider photo by Ben Fine.
Walking into the school psychologist's office at HBHA, the first thing you see is a woman sitting at her computer. Wavy light blonde hair greets you, but what captures your attention is the brightly colored outfit that goes together phenomenally. Sara Whelan is the new school psychologist this year. She has been a school psychologist for 13 years and previously worked in a school in Austin, Texas, but when her family moved here she worked in the Blue Valley district. 
Whelan got involved with HBHA because her two little girls went to preschool at the CDC. On her desk are pictures of the two cute little girls, both with the same blonde hair and bright smile as Whelan. One day, Whelan heard about the HBHA psychologist opening from another parent. The mother knew this job would be different from her past jobs of working in public schools.
This is Whelan's first time working for a private school, and she enjoys it as she can work with more students one-on-one. Whelan frowns as she says, "In public school, school psychologists do a lot of testing which isn't my love." Whelan has been working the past two years to get her license to be a private therapist, and she is happy she can work with students instead of doing testing all day long.
"This position is awesome," she smiles: "Everyone has been so welcoming and friendly and helpful."
Whelan expresses how much she loves being in a smaller environment, and how glad she is that she got the job. Her voice is calm and steady. The exact voice expected from a psychologist. Whelan makes the room seem calm even with the chaos of school going on right outside her door. High schoolers and middle schoolers shouting together as they walk down the hall is inspiring to Mrs Whelan.
Whelan enjoys how grade-level integrated HBHA is with older kids interacting with younger kids and the way all the students know each other. She was excited to get to know the students, so she went to join the juniors at Tucker. Tucker is a ropes course is Liberty, Mo. She laughs, "I can't believe I finished the whole thing." Whelan's past experiences with ropes courses were not great, as she tells me, "I've done it twice before at different camps and things, and actually had a panic attack and came down."
Whelan talks about how she had to be vulnerable with the juniors, and she gesticulates as she describes her fear of heights, moving her hands in a circular motion away from her body, her eyebrows scrunched. She did get through it, though, with the help of the juniors. They pulled her along and helped her through: "I was at my weakest," she says with a laugh, "Sometimes that's what needs to happen."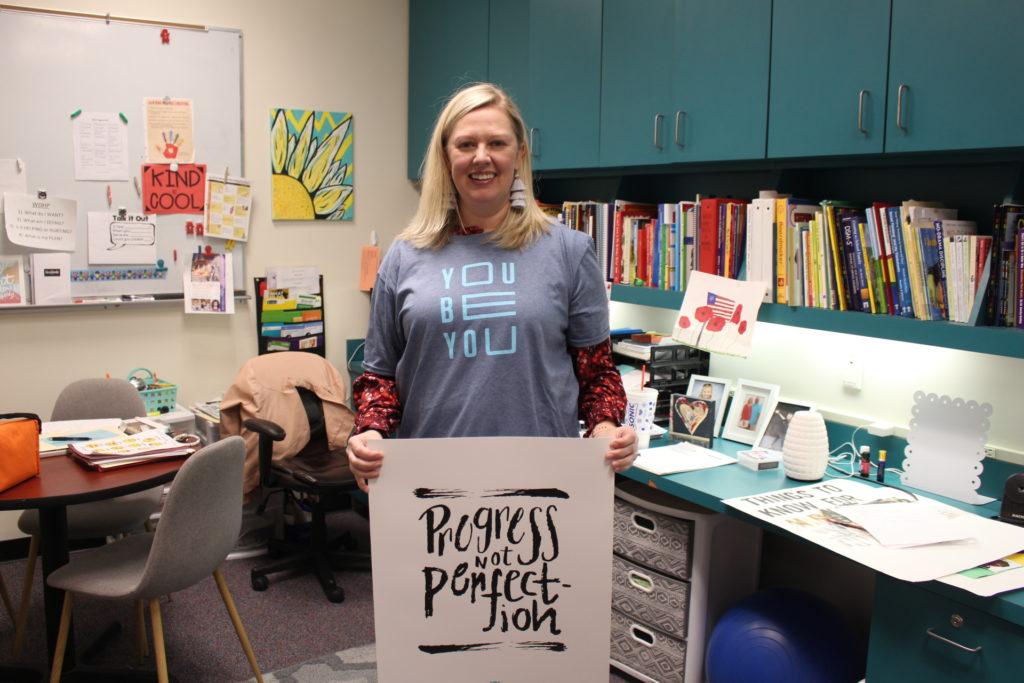 She not only feels this way about Tucker. She believes You Be You, which is a mental health coalition that works to erase the stigma around talking about mental health and provides students with the resources to get help if they need it. Whelan thinks it is an important program to have at HBHA. "I love the message that it sends out to students." says Whelan. This is why she wants the students to be spearheading the program. She believes talking about mental health and normalizing it is super important. She feels, "It should be something like our regular health," and if people do not talk about it, and people are not aware of the support they have, then they will not know. "We've got to be able to start the conversation," Whelan says. Her voice is serious and soft. A clear passion for this program and her job shines through her speech into the air of the room. The school already feels like a safer place.