Stacey Abrams and the State of Georgia's Major Impact on the 2020 Election
Slider image from RollingStone
Stacey Abrams is making a name for herself as one of the most influential politicians in Biden's presidential victory last month. This crucial influence came from her fight against voter suppression in the traditionally red state of Georgia, actively turning it into a purple swing state.
Born in 1973 in Madison, Wisconsin, the second of six children, Abrams spent most of her childhood in Gulfport, Mississippi. Her family later moved to DeKalb County, Georgia, where she finished high school, and, at her graduation, she became her school's first black valedictorian. Abrams then got her undergraduate degree at Spelman College and graduated with a B.A. in Interdisciplinary Studies. In 1998, she earned a Master of Public Affairs from the University of Texas. The next year, Abrams received a law degree from Yale. In 1992, she served in the youth services department as a research assistant for Atlanta's first Black mayor, Maynard Jackson. She also became a tax attorney for Sutherland Asbill & Brennan law firm in Atlanta for a period in the late 1990s. Abrams is also a writer; in the early 2000s, she published romance novels under the pen-name 'Selena Montgomery.'
Then Abrams began her political career. At 29 years old, she was appointed the Deputy City Attorney in Atlanta. At the Georgia General Assembly in 2006, she became the first woman to lead either party. In 2010, she became the first Black person to lead in the Georgia House of Representatives, on which she served until 2017. In 2018, she campaigned for Georgia governor, and by doing so, became the first African American woman nominee for governor in the United States.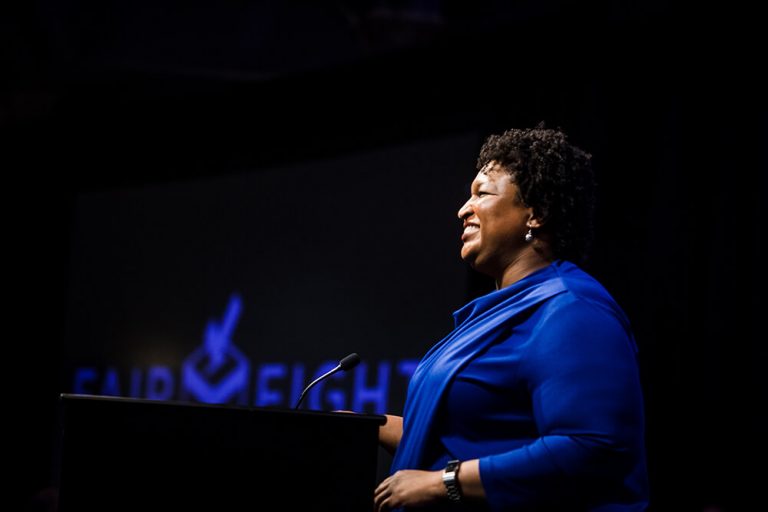 Despite her loss to Secretary of State Brian Kemp in that election by less than 55,000 votes, Abrams did not concede due to Kemp's records of canceling the voter registration of 1.4 million Georgia residents. Kemp claimed that the elimination of these voters from the roles was due to inactivity and error, but Abrams denounced it as disenfranchisement. This purge of votes that ultimately may have won her the election was the basis for her founding of Fair Fight.
Fair Fight is an organization that fights against voter suppression in Georgia. It was established in 2018, almost immediately after the midterm election. According to their website, they "promote fair elections in Georgia and around the country, encourage voter participation in elections, and educate voters about elections and their voting rights." Their main initiative is to spread awareness and combat voter suppression such as election mismanagement, irregularities, and long lines.
Fair Fight explains that voter suppression is most common among "voters of color and young voters," which "is a scourge our country faces in states across the nation."
The social justice program at Hyman Brand Hebrew Academy (HBHA) each year is involved with Future Votes KC, a partnership between HBHA, University Academy (UA), and, starting this year, Academie Lafayette International High School (ALIHS). In the 2018-19 school year, the partnership focused on local voter engagement, with a similar initiative to that of Fair Fight. In the first semester, students participated in phone banking to local registered voters to encourage voter participation in the midterm election, making more than 1,500 calls collectively. Students also had rallies on election day, where they held signs on major streets encouraging the public to vote.
In the second semester, the partnership hosted a student-led mayoral candidate forum for the primary of the Kansas City mayoral election, attended by Quinton Lucas, who went on to win the election and become the current Kansas City Mayor. And after the forum, multiple candidates told UA and HBHA teachers and students that the forum was one of the most well-attended by the public of the many that took place that spring.
Clearly, initiatives such as Future Votes KC and Fair Fight are able to have a major impact on elections. Fair Fight's push for voter participation in Georgia was so successful that the organizations and Abrams efforts are credited for the 800,000 Georgia resident increase in voter registration from this year's election in comparison to the 2016 election, according to the New York Post. This dramatic increase is directly responsible for the unexpected party-flip in the state for the presidential race due to the record voter turnout, which, although close, the Democratic party led in for the first time in 20 years.
What is most remarkable about Abrams' impact on the presidential election is that she has accomplished it all without winning any election for public office. In the meantime, she has gained support from many A-list celebrities, and, earlier in the year, Abrams was even on the shortlist to be Biden's running mate. At the time, she expressed enthusiasm for the idea, saying "I would be an excellent running mate." Abrams may not have been chosen because of her unsuccessful attempts at winning elections, but she continued to involve herself in supporting Biden's campaign and playing her part in his Georgia win.
The future holds a lot for Abrams. She will surely continue growing towards her goal of ensuring American citizens the right to vote, regardless of whether or not she is elected to public office anytime soon. She characterizes the importance of her work by saying, "I have an obligation to do the work that I said I would do if I were governor." She has a lot of hope for herself in the future and even predicted that she would be elected President of the United States by 2040. We can only wait to see what else is in store for Fair Fight and Abrams as more and more possibilities unfold for them to continue to influence America.