What does it take to be a man?
Abbie Davis
December 20, 2020
Slider image from Harry Styles' Instagram
What makes a person 'manly?' Is it the deepness of his voice or his height? Could it be how good he is at sports, or if he can hunt? How about what he chooses to wear? Stereotypes and gender roles surround us, and their existence can actually be a fairly controversial subject.
Harry Styles challenges these stereotypes daily. Styles is an English pop musician who rose to fame at an early age. In 2010, at just 16 years old, he was on the show the X-Factor, where he sang alongside his soon to be bandmates Niall Horan, Liam Payne, Louis Tomlinson, and Zayn Malik. After the show, they formed a boy band called One Direction, which quickly gained popularity across the globe. In 2016 the band split up, and many of the band members, including Styles, began making music of their own.
Since the split, Styles has been thriving in the music industry. He has come out with two albums, "Harry Styles" and "Fine Line," which have topped the charts. Styles has earned three Grammy nominations for the 2021 award show. His album "Fine Line" is nominated for Best Pop Vocal Album, the song "Watermelon Sugar" is nominated for Best Pop Solo Performance, and his "Adore You" music video is up for Best Music Video.
In the past few years, Styles has been challenging gender stereotypes with his apparel choices. He wore a ballerina costume on Saturday Night Live, and heels on an album cover. Embracing his feminine side has become a huge part of Styles' brand. He recognizes that clothing does not have a gender, and he chooses to wear whatever makes him comfortable and happy.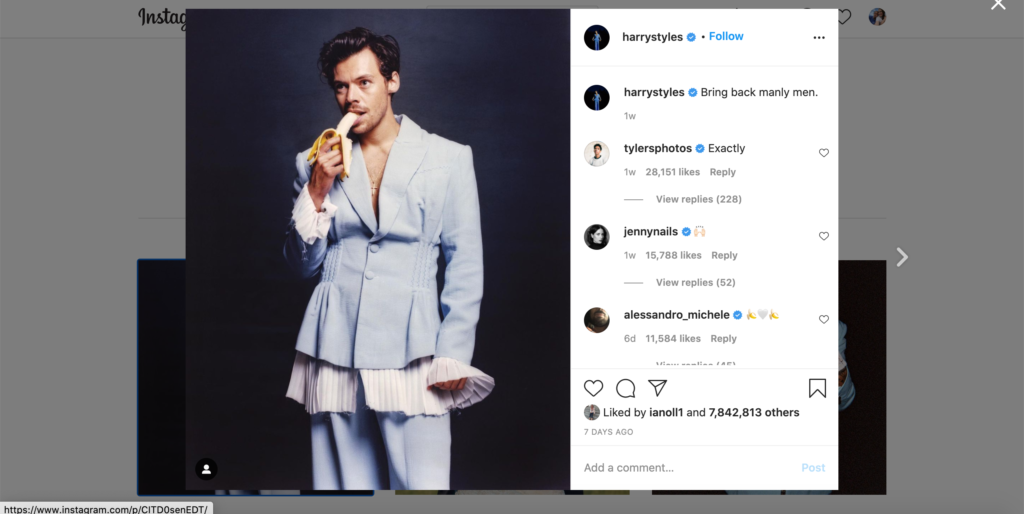 One interesting accomplishment in Styles' career was announced just weeks ago. Styles is the first man to ever appear solo on the cover of Vogue Magazine. His issue comes out December of 2020. The clothing he wore in his photos may be seen as feminine, as he is wearing dresses and skirts in many of the photos, including the cover.
His outfits have spiked controversy in the media, as some people disagree with his clothing choice. Among these people is American author and conservative political activist, Candace Owens, who caused the most uproar in the media as far as this controversy goes. After seeing the cover design, Owens took to her Instagram account with a series of videos, explaining her own personal opinions about the situation.
It all started when Owens responded to one of Vogue's tweets saying "there is no society that can survive without strong men… Bring back manly men." This was directly responding to the tweet where Vogue announced that Styles would be on the cover, displaying a photo of him wearing a dress. Clearly, Owens does not approve of Styles' wardrobe, and after receiving backlash on her tweet, she describes her opinion in two separate videos, both over 7 minutes long on her Instagram feed.
In the first video, Owens starts by saying "alright guys. Bring back manly men." She goes on to criticize the left, saying that "the left hates anything normal." She also insinuates that if a man is wearing a dress, there must be something mentally wrong with him. No mentally stable man would ever wear a dress, and she would not allow her kids near a man in a dress.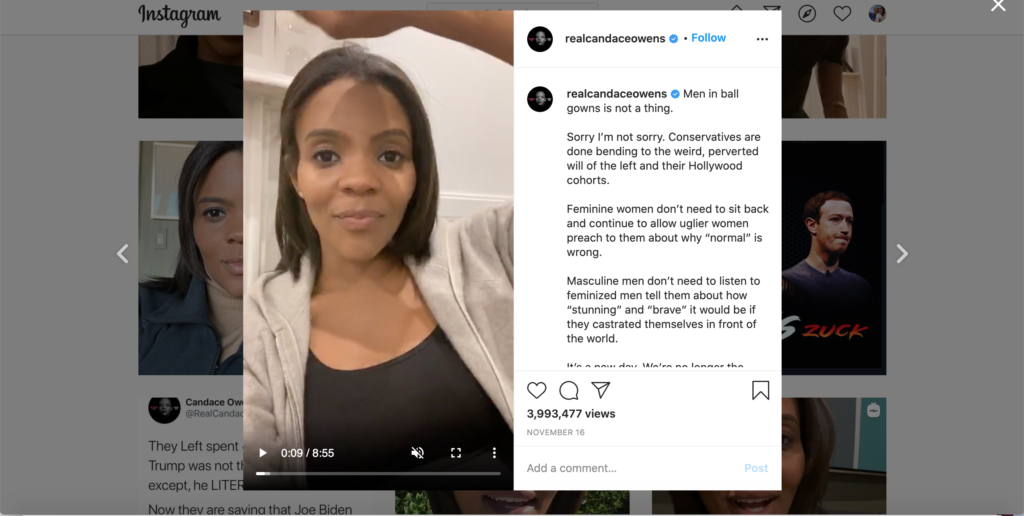 "I believe there are only two genders. I think men wearing ball gowns is weird. I think men providing for their families, being pillars of strength, and leading admirably is attractive," Owens captions her next post. In her second video, Owens describes that the purpose of her account is to encourage people to be normal, and that "it is okay to be normal."
The definition of normal is up for debate, and there is no clear definition of what makes a person normal. In Owens' opinion, 'normal' is traditional. Men wear suits and women wear dresses. "The role of men is to defend, to protect," and "women should be nurturing," Owens had mentioned in her first video. She expands this opinion past just Styles' Vogue shoot, and she goes on to talk about people's weight, religion, and sexuality.
President Trump's son, Donald Trump Jr., agreed with Owens, and he replied to one of her Instagram videos via comment, saying "it's hard to believe that a man being a man is a controversial thing these days but alas… liberals."
Much of the comment section, however, offered hate towards Owens, featuring tweets from Twitter users disagreeing with what she said in her videos. One of the major criticisms Owens received was regarding a picture she had posted just weeks before, where she was wearing a suit. The people in the comment sections were pointing out that traditionally, a suit is 'manly attire,' so according to her logic, if men can not wear dresses, then women should not be allowed to wear suits.
Owens has continued to post stories on her Instagram bashing Styles and Vogue, and expressing her thoughts on the situation.
Needless to say, her videos caused uproar in the social media world, and multiple celebrities and politicians spoke up and defended Styles.
Jonah Marais, musician in the band Why Don't We, tweeted, "Harry Styles is doing everything right. So funny to see these conservative people getting so heated because he's pushing gender norms in the dopest way. MEN AND WOMEN CAN DRESS HOWEVER THEY WANT. It's 2020. Shut up, your small mindedness is showing."
Jameela Jamil, actress, known for her role in "The Good Place," tweeted "Harry Styles is plenty manly, because manly is whatever you want it to be, not what some insecure, toxic, woman-hating, homophobic ****heads decided it was hundreds of years ago. He's 104% perfect." A bit later, she showed a picture of a man from a long time ago, and said "also… this was at one time considered very manly. Wigs, make up, tights, frills… maybe this is the comeback of the 'manly man.'"
Emma Lord is an upcoming author who also also defended Styles on her Twitter account, saying "lol anyone mad about harry styles in a dress is just mad that he can pull it off better than they can."
These are just a few of the celebrities that responded to Owens defending Styles. Alexandria Ocasio-Cortez, a well-known liberal politician who serves as a congressional representative for New York's 14th district, also came out to defend Styles. According to the Los Angeles Times, Ocasio-Cortez was asked about her thoughts on Styles' dress, where she called it "wonderful." She also wrote that the "masculine and feminine elements are balanced beautifully. The hair and jacket styling give me James Dean vibes too. Some people are mad at it [because] some folks are very sensitive to examining and exploring gender roles in society."
Styles has yet to formally address Owens' comments, but he did post another photo from the Vogue shoot on his Instagram, wearing frills and what could be viewed as feminine attire, captioned "Bring Back Manly Men," as a clapback.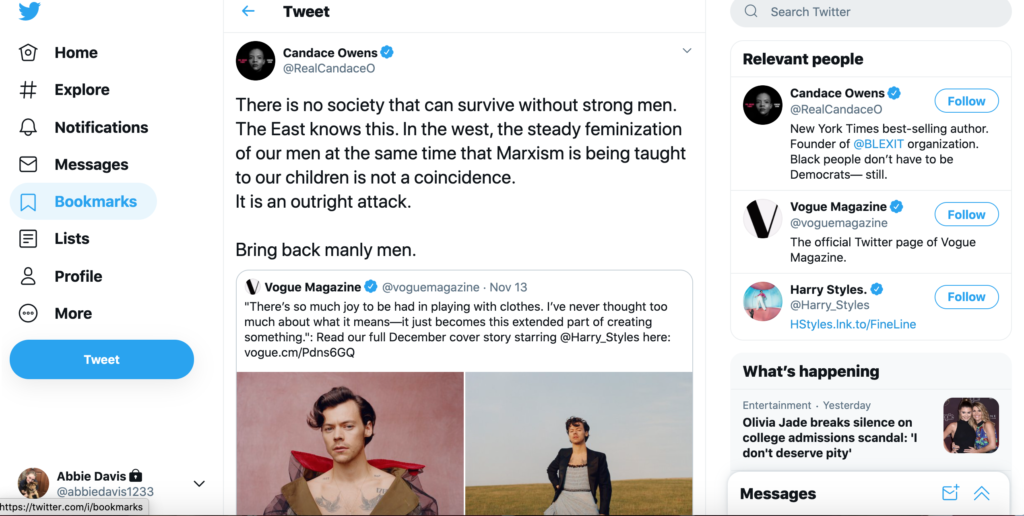 Styles' philosophy is simple: "There's so much joy to be had in playing with clothes. I've never thought too much about what it means—it just becomes this extended part of creating something," Styles tells Vogue.
Styles also told Vogue "I'll go in shops sometimes, and I just find myself looking at the women's clothes thinking they're amazing. It's like anything—anytime you're putting barriers up in your own life, you're just limiting yourself."
Regardless of the controversy, Styles' magazine is already a huge hit. There is actually a waiting list to get the magazine, and Vogue has had to order a second print run.