Lower School Students Aim to Run 100 Miles!
Sam Sosland
November 24, 2013
Photo by Bini Allen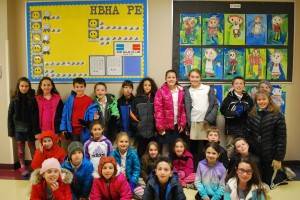 Members of the Hundred Mile Club smile before a cold, winter run and walk. 
Students at HBHA are taking part in the "100 Mile Club" running initiative. Some students have already run over 25 miles for the program. Led by Coach Lisa Ryan, students meet Wednesdays and Thursdays after school to take part in the athletic challenge. The goal is for participating students to complete over 100 miles of exercise via running or walking.
Ryan, mathematics and physical education teacher, brought the program to HBHA this year. The national initiative has certain requirements for a school to participate, and Ryan was a major player in getting HBHA involved. Ryan received a grant from "100 Mile Club" to begin the program, and she received a lot of help from various parents.
"The goal is to get 100 miles before the end of the school year, and they can run or walk," said Ryan. "The students keep logs of the distances they run, either on their own or with a group. However, running in a sport such as basketball or soccer does not count."
According to the "100 Mile Club" website, the purpose of the program is to counter childhood obesity in America. Founded in the 1992-1993 school year, the program hopes to combat inactivity in a safe environment.
Some students at HBHA have already completed over 25 miles, including fifth grader Ilana Fingersh. Fingersh participated in HBHA cross-country, so she has some extra miles on her record. "I have run 31 miles already," Fingersh said. "Running is just fun!"
One HBHA students, fourth grader Ariel Iseman has already logged 80 miles!
Fifth grader Claire Smith thinks this is a great activity for HBHA. "They should do it again next year!" Smith said.
HBHA senior Jacob Pellegrino is glad to see students taking on the challenge. "As a runner, I am happy to see that kids are not only pursuing exercise at a young age, but that the exercise they decide to choose is running," Pellegrino said. "It is good to see every week that all these kids show up to run."
Hopefully, students will continue this wonderful program.