The Beginning of HBHA Fall Sports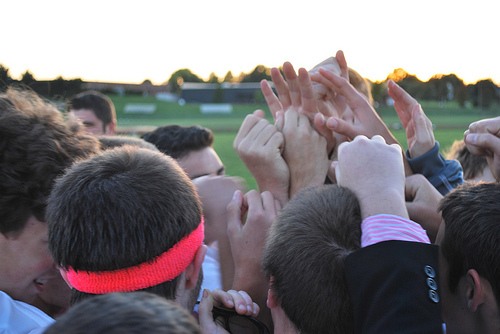 Sam Sosland
November 26, 2013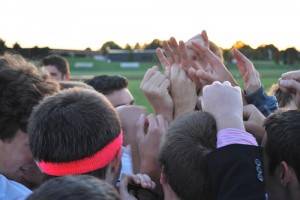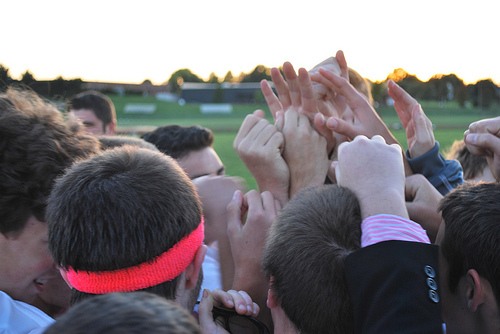 Rams Soccer players bring it in during a team huddle.
For both upper and middle school, Hyman Brand Hebrew Academy's fall sports practice and participation commenced in the middle of a late-summer heat wave. During the fall season, students played cross-country, soccer and girls tennis. Some of these practices started as early as the week before school. High temperatures in the 90s for the first three weeks of school led to alternative practicing methods for many sports.
"We have been [practicing] inside some days because it is just too hot to run," said Elana Goldenberg, HBHA sophomore and member of the cross-country team. "Some days the high schoolers practice early in the morning when it is not as hot," Goldenberg said. Despite the intense weather, students hoping to succeed in their upcoming games, meets and races, diligently worked hard in preparation.
Some members of the cross-country team found benefits to the heat wave including Elana Goldenberg, who believes that it is nice to practice early in the morning instead of in the afternoon heat. "It feels really good afterwards, to have it out of the way and be able to go home right after school," Goldenberg said.
Despite the oppressive heat, cross-country runners significantly improved their running capabilities compared to years past. "We ran four miles our first day of practice which, compared to struggling to run two miles last year, is an incredible improvement!" said senior captain, Alex Sher. The team has made great strides in increasing their running capabilities.
For the boys' soccer players, the heat was also an obstacle. Junior Joel Gutovitz was used to practicing in this kind of weather, but he agreed that it was especially hot this year. "Practicing outside has been difficult in this heat," said Gutovitz. "I remember it not being as bad last year because we had practice closer to a shade shelter. But this year we are more outside during the entire practice, so it is more difficult out in the sun. But we are still having a good time!"
This season was new and exciting for the boys' soccer team as a result of a couple of changes. They acquired a new head coach, HBHA Science Department Chair Cody Welton, a new assistant coach, English, science and social studies teacher Rebecca Glueck, and many new additions to their team, including senior Matt Kavanaugh. As this is Kavanaugh's first time on the team, he said he is learning a lot about the sport. "My goals for the season are playing, making a goal, or hopefully making an assist," said Kavanaugh.
Tennis season also took off despite the heat.  Senior Natalie Cabell observed, "We have a match set up with Barstow, and even in the smoldering heat, we are improving our skills," said Cabell.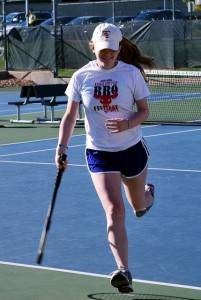 Gabi Cabell runs to collect tennis balls during practice.