Welcome, Mrs. Reagan!
Leah Sosland
March 25, 2014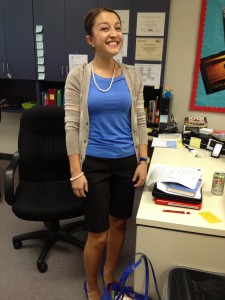 Upper school English teacher, Claire Reagan, is one of the many new additions to this year's HBHA faculty. She describes herself as being "curious, outgoing, and passionate." After her upbringing in Belleview, Nebraska, Reagan established many ties in the Kansas City area. After attending the University of Nebraska-Lincoln, where she received a degree in English and one in secondary education, she attended graduate school at the University of Missouri-Kansas City.
Reagan never really had a "when-I-grow-up" dream, because she's "always just lived in the moment." Reagan originally aspired to become a doctor, but through a "series of very fortunate events," she began to coach a high school flag team and realized how much she enjoyed being with teenagers. This inspired her to become an English teacher.
She discovered the Hyman Brand Hebrew Academy through a friend who was active in the Jewish community. When asked why she chose to come to Hyman Brand, Reagan replied, "I was able to sit down with Mr. Haas, and it [turned] out that HBHA would be a place that really fit well into the life I'd envisioned, and where I could fill a need." She teaches AP English for the juniors and seniors. Mrs. Reagan loves how everyone at HBHA is so friendly and how there is an overall positive environment throughout the school. She can tell that there's a "big focus on achievement and academics, but not at the cost of relationships".
Reagan's favorite dessert is the chocolate bag at McCormick and Schmick's on the Country Club Plaza. It is an actual bag made of semi‐sweet Belgium dark chocolate. It contains white chocolate mousse and fresh berries on a bed of raspberry purée. Yum!
Fun, quirky facts about Mrs. Reagan: When she was seven, one of her toes stopped growing, she often spontaneously bursts into dance, late at night, and she and her husband, Scott, rescued a miniature schnauzer, whom they call Charlie (they suspect that he's actually a schnoodle).
Five years from now, Reagan hopes to continue teaching English, still have Charlie underfoot, and maybe even have a couple of kids in the mix as well.  After being asked what she is looking forward to this year, Reagan expressed, "I am looking forward to growing some great relationships with students, getting everyone ready for the next step in their journey as English students, and just finding my place in the community and leaving my mark here". So far, Mrs. Reagan has felt right at home at HBHA.