If it Walks like a Duck…
Jacob Margolies
May 1, 2014
Middle and Upper School Judaics teacher Michal Cahlon is widely known as the school's foremost scholar. Her reputation for widespread erudition in all areas is unprecedented. Pick a field: mathematics, history, science, literature, you name it, Cahlon has amassed a wealth of knowledge that would put any specialist of the discipline to shame. Students testify that they have never asked Cahlon a question that she could not answer correctly, and that she is able to help them with work that strays significantly outside Judaics.
HBHA junior Ezra Smith said, "I once made a sarcastic joke about an obscure film and Ms. Cahlon explained how the entire movie was a satire on the overbearing Chinese lifestyle on young adults."
An anonymous junior said, "The first time Ms. Cahlon is unable to answer a question, matter and antimatter will collide and the universe will instantaneously cease to exist."
Cahlon's reputation for scholastic excellence has gone unquestioned for years, but new evidence has come to light that is causing this reporter to cast doubt on everything. Apparently, The Savant is unfamiliar with a childhood game near and dear to us all, "Duck, Duck, Goose."
Senior Natalie Cabell has the whole story. "In class, we were talking about the differences in language between the United States and Canada," Cabell explained. "Then we began to talk about how Minnesota calls 'duck, duck, goose' 'duck, duck, grey duck'. Upon telling her this, Cahlon asked, 'What is duck, duck, goose?' The room turned silent in a state of awe.'"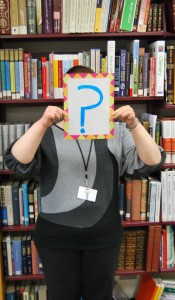 No one knew Cahlon was capable of having a lapse in what was otherwise considered the greatest accumulation of knowledge of all time, let alone a lapse in such a fundamental childhood game. The school is being thrown into a state of chaos as the news spreads; no one is certain of anything anymore. Indeed, incidents of looting, arson, and even indecent exposure have been reported. Senior Kara Kahn is abhorred about recent events, "Just the other day I saw a classmate sprinting down the hallway shouting 'duck, duck, goose!' in the nude. I had no idea how quickly people could turn to their savage instincts in times of crisis. This news has truly turned everything upside down."
The administration is still trying to get the situation under control and to learn exactly what happened, but with the school in such a state of pandemonium, it is unclear whether HBHA will ever be able to implement the rigid class schedule which once maintained civility and order. In the last week alone, absences, tardies, and disciplinary actions have skyrocketed beyond any time in HBHA's recorded history. The teachers themselves are beginning to succumb to the disarray throughout the rest of the school, many are no longer working to create plans for class in anticipation of the ubiquitous unruly behavior that awaits them in the classroom.
First year Middle and Upper School Math and English teacher Micah Margolies has had his share of problems, "Ever since Ms. Cahlon's faux pas in the classroom, it's been utter chaos. Students are throwing chairs, the projectors have been torn from the ceiling, and I fear a riot may ensue. I've pretty much abandoned all future plans of teaching this year because if Ms. Cahlon doesn't know something, I don't know what to make of this world."
With HBHA plunged into anarchy, and no feasible solutions in sight, the future of the school looks bleak. The administration is baffled as to how they will placate the student body and the students are now taking to the streets and are even beginning to disturb the citizens of Overland Park.
Local and even state officials are beginning to take notice and have proposed Initiative 172472 which would call for demolition of the entire facility. Unfortunately for HBHA, Initiative 172472 has considerably more support than opposition, and it is likely the school will meet with swift annihilation.
It is with a heavy heart that this reporter signs off, with what will likely be his last journalistic contribution to The Rampage Wired. We must all say goodbye to HBHA, it had a great run, and we will always remember it, and we can only hope that Ms. Cahlon will remember "duck, duck, goose."