A Smile to Start your Day: Meet Carol Pfau
Alexis Davis
December 8, 2014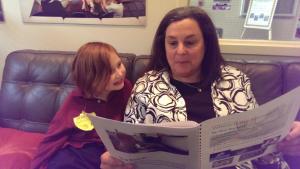 The smiling, welcoming face that greets people coming through the main office is Carol Pfau. Carol was born and raised in Boston, Mass., the second youngest of 5 siblings. She lived in Florida before moving to Kansas in 2005 when her two children were in second and fifth grade. Carol decided to move to Kansas because she wanted her kids to have "better experiences than they were having in Florida." Carol and her kids were living in a small community and were hanging out with the same people. She decided she wanted her kids to, "have more than just that." Carol picked Kansas because she had a sister who lived here at the time and loved it.
How much do you know about Carol? Did you know she loves to see movies and will see any movie? The only movies she does not like are the, "sappy like Nicholas Sparks" movies. She loves to see documentaries and independent films. Also, she loves to be outside and take walks. And, of course, she loves her technology and enjoys playing on her ipad.
Before coming to Hyman Brand Hebrew Academy (HBHA) in January 2014, Carol worked at the Jewish Federation. She was the assistant of the CEO/President. Prior to that experience, Carol worked at a place called Challenger Center for Space Science Education.  Carol said they have simulators all around the world, even in South Korea.
When asked the question what she wants to accomplish this year, it took her time to find an answer. Carol says she, "lives day by day," and just wants to be healthy.
Carol starts her day by coming to school around 7:15 or 7:30. Then, she "hits the floor running" and she is off working hard and is busy all day long. The first thing she does is find her trivia question for the day. After that, she helps with the kids by handing out late passes and kippas, a lot of them. Each day is different than the one before, some days are quiet and other days are busy. The day goes by quickly for Carol, and she loves it.