One Year and Stronger Than Ever: Local Organization Creates Peace Walk
Adena Goldberg
May 18, 2015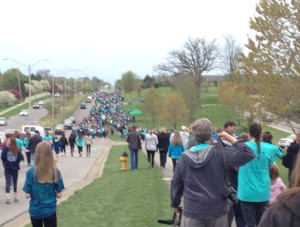 One year. One year ago the Jewish community of greater Kansas City was attacked. One year ago three lives were lost. One year has passed since April 13, 2014. To commemorate this tragic event and to emphasize the strong community that has blossomed from the horrors of the tragedy, Mindy Corporon, mother and daughter of two of the victims in the murder last year, has created Seven Days: Make a Ripple, Change the World, an organization committed to spreading peace and acceptance to young adults through faith and love. Seven Days was a week long initiative, each day with a different event, representing a different aspect of acceptance. The final event, on the anniversary of the shooting, was the walk. The Peace Walk took place on April 13, 2015. It began at the Jewish Community Campus and participants walked to the Church of the Resurrection, in Overland Park, Kan. The walk was planned by a youth board as well as Corporon and her team in the Seven Days project.
Hyman Brand Hebrew Academy junior Lainie Kaseff attended the walk along with almost 400 other supporters. Kaseff remarked that the whole event "hit me hard, as it was so close to home." She felt that participating in the work and "supporting the families [of the victims]  was very important and was a good way for me to connect with their grief." Kaseff, along with many students at HBHA, was at first stunned by the event last April, as it had affected her "second home" and community.
Sophomore Alexis Davis also attended the walk and agrees with Kaseff, "I've gone to HBHA my whole life; this being that close to me, knowing that this happened, and that it could've been me still affects me." Davis added, "the day of the shooting I was at home, and heard the sirens [of the police as they drove]from Village Shalom to the school where the shooter was arrested."
The Walk showed members of the Overland Park and  Kansas City community, specifically those who are very connected to Village Shalom and the Jewish Community Campus, the strong community that continues and grows even after the fatal attacks last year. Hopefully, the Seven Days initiative is going to be continued, as it has already spread acceptance and promoted coexistence around the community.