Saving Lives One Pint at a Time: Justin Pfau Becomes a Gallon Grad
Elana Goldenberg
March 1, 2016
Co-written by Elana Goldenberg & Jared Schultz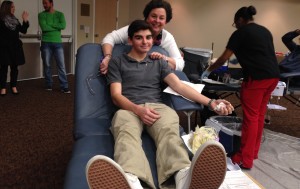 Jan. 22 was a special day for Hyman Brand Hebrew Academy (HBHA) senior Justin Pfau. During HBHA's annual community blood drive, Pfau donated his eighth pint of blood, thereby completing the requirements to become a Gallon Grad. Gallon Grad is a program through the Community Blood Center of Greater Kansas City that recognizes area high school students who give at least one gallon of blood before graduation. Gallon Grads receive a ribbon, a distinctive honor cord to wear at their high school graduation, and have the satisfaction of performing the mitzvah of pikuach nefesh, the saving of a life.
Saving lives, in fact, is the very thing that compelled Pfau to become a Gallon Grad. He began giving blood right after he turned 16, the minimum age for giving blood, because "it's the easiest thing you can do to save a life."
Pfau added, "There's really no reason not to give blood. It's such a simple way to help other people."
This milestone is, by no means, an end to Pfau's efforts. Life will go on and he will continue to donate blood. Pfau said, "I plan to keep giving blood after I graduate because it's just a good thing to do. I want do a good deed for someone in need."
Pfau is not the first HBHA student to receive this award. In 2013, then-senior Avery Parkhurst became HBHA's first Gallon Grad. Pfau hopes that many more future graduates will also become Gallon Grads. He explained that Gallon Grad "shouldn't even be a special thing."
"Everyone should be donating blood…so many people need it. It takes so little time and is so easy. I don't understand why anyone wouldn't want to donate blood," continued Pfau.
The Torah, in Vayikra 19:18, teaches us to "love your neighbor as yourself." As Pfau expressed, there's no better way to show our readiness to help our neighbors than by donating blood. Next year, consider making an appointment at HBHA's blood drive. Or, better yet, seek out sooner opportunities to donate blood and save a life.
Tell your friends and family about the importance of donating blood. For more information, please visit The Community Blood Bank at www.savealifenow.org .