Protests at the 2017 AIPAC Policy Conference

Slider photo by Liat David
The annual American Israel Public Affairs Committee (AIPAC) conference, known as Policy Conference, took place in Washington D.C. Mar. 26 – 28, with over 15,000 people in attendance. Over the course of the three days, people attending the conference picked from hundreds of sessions and advocated for the positive U.S.-Israel relationship. While there were thousands of people there who provided AIPAC with support, there were also a number of groups who protested against the conference.
The various protests groups fell across a political spectrum, ranging from the "right wing" protest groups, who believe that Israel should be an exclusively Jewish state without a neighboring Palestinian state, and the "left wing" protest groups who seek to bring about a two-state solution – the State of Israel and a Palestinian State.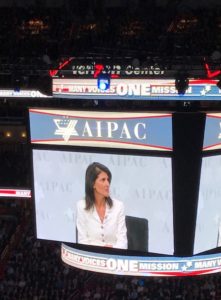 Rabbi David Glickman from Beth Shalom Synagogue in Overland Park, Ks. has been attending AIPAC for about 25 years. He remarked that every year there is a large array of protest groups. Rabbi Glickman said, "regularly, the Neturei Karta protest AIPAC. They are a fringe, ultra-Orthodox Jewish group that believes that there should not be a Jewish state until the Messiah comes.  Additionally, there are also many protestors who are opposed to the very existence of a Jewish state because of their commitment to Arab Palestinian nationalism."
IfNotNow, a left-wing group that supports the two-state-solution, was one of the most publicized groups who protested against AIPAC's Policy Conference this year. On IfNotNow's website, the section dedicated to resisting the AIPAC conference reads  "AIPAC promotes endless occupation and Islamophobia in the name of the Jewish community…and their cozy relationship with the Trump administration is their final betrayal of our community…We are reclaiming our Jewish values by taking action to support freedom and dignity for all." While Rabbi Glickman states that he agrees with IfNotNow's stance on the two-state-solution, he disagrees with how we reach that solution.
Rabbi Glickman said that AIPAC is often viewed as a right-wing organization because the current Israeli government is right wing, because AIPAC does not criticize Israeli policies, and the majority of Jews at the conference are republican. In Rabbi Glickman's opinion, even though AIPAC features a diverse group of speakers with various political leanings, liberal groups such as IfNotNow use their voice and their power to be aggressive rather than be constructive.
Liat David, a high school senior and a member of Regional Mazkirut (the regional board for Young Judaea), has attended AIPAC's Policy Conference every year since she was a freshmen through the Young Judaea delegation and has enjoyed every conference. David remarked that at AIPAC she struggles with protestors every year, but this year was especially difficult for her because she knew many of the protesters.
David said, "this year was much harder to turn the other cheek because within the the crowd, there were protesters that I knew. The familiar faces were from my very own Jewish youth group along with other Jewish youth groups that my friends are apart of."
David takes issue with the group IfNotNow, not because of their opinions on Israel, but because they were protesting alongside groups that seek to delegitimize the state of Israel, as well as their negative feelings toward Vice President Mike Pence's attendance and speech at the conference. David believes that  IfNotNow needs to accept that the Trump administration is the one currently in power and protesting at AIPAC events will not change that. She also stated  that  AIPAC is a bipartisan lobbying organization whose goal is strengthen the U.S.-Israel relationship, and it was crucial that Mike Pence spoke in order to maintain AIPAC's reputation of being bipartisan. David believes that "Pro Israel activists must work with whoever is in the government currently in order to yield the best results despite different views."
The AIPAC conference is a  way for people all around the world to advocate for a U.S.-Israel relationship. The goal of the conference, and of AIPAC,  is to strengthen the bond between two great countries who need each other despite differnce stances and opinions. Protesting at the Policy Conference can be something full tension and it can also be something moving and meaningful, but in the struggle to getting everyone's point across, it is critical that we set our arguments aside and listen to each other.