Amy Rosenfeld: HBHA's New Database Development Director
Ilana Fingersh
December 12, 2017
It's 8:30 am on a regular weekday, and Amy Rosenfeld arrives at Hyman Brand Hebrew Academy. She walks toward her cubicle near the conference room, past the front desk of Carol Pfau, Assistant to the Head of School. Ahead of Rosenfeld is a long day of computer work and handwritten thank you notes.
Rosenfeld grew up in the farm town Carrollton, Mo. which is about 30 miles north of I-70. Carrollton has a population of  approximately 4,000, and it is mainly centered around agriculture and farming.  She attended the University of Missouri at Columbia for six years where she received her BSBA and MBA.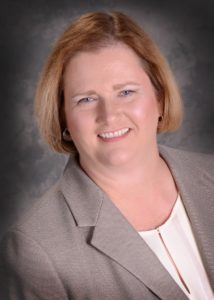 Rosenfeld was raised Catholic, but she did not agree with a lot of views in Catholicism. She says "since I was a freshman in high school, I wasn't really Catholic." She received her first introduction to Judaism while she was at college. She met her husband, who is Jewish, and decided to adopt the faith.
Rosenfeld maintains part ownership in a small 360-acre family grain farm, as is typical in Carrollton. She has a daughter, who is a professional artist, and a granddaughter, who she and her husband love to visit.
Beginning in July of this year Rosenfeld started her position as the database development coordinator at Hyman Brand Hebrew Academy. "It's kind of a confusing title," she admits, before she explains it. Rosenfeld processes incoming donations and then sends out receipts and handwritten thank you notes to all of the donors. In addition, if a donor gives as a tribute to another person, she reaches out to the honoree as well.
She also generates reports to help the school with financial decision making. "Ever since I've started working, I've liked working at non-profits and with places that could use my help to use their funds wisely." Rosenfeld puts both physical and online donations in a complex database, and reports on how and where the money is being used.
"There's a big learning curve with any detailed job," she explains, and it was confusing at first.  Rosenfeld enjoys her new job, and she is looking forward to being a part of the HBHA community. HBHA is a "great institution, a vital one, and a unique one," according to Rosenfeld. To Rosenfeld, it doesn't matter that the job is not high profile, or out in the public. She knows that what she is doing is giving back to the school, and that's all that matters.