Deadly Fires in California Destroy Jewish Communities
Ayelet Schuster
December 12, 2018
Photo courtesy of Flickr.
Deadly fires have been spreading throughout California this November. One of the fires, the Camp Fire, in Northern California has burned 150,000 acres of land. In Southern California, the Woolsey Fire has burned nearly 100,000 acres throughout Los Angeles County and Ventura County. In total, these fires have resulted in the deaths of 90 people.
Strong winds spread these disastrous fires throughout forests and neighborhoods, causing residents to evacuate their homes. Over 7,000 structures have been burned down, and a majority of them are homes. This has left thousands of residents homeless with nowhere to go.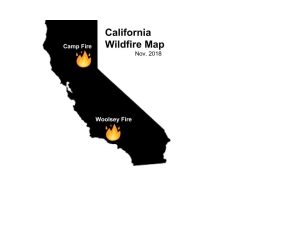 The chief of strategic planning for the California department of Forestry and Fire Protection, Thom Porter, said in an interview with ABC News: "It is by far the most deadly single fire in California history and it's going to get worse, unfortunately…the body count is expected to climb higher as search crews continue sifting through the destruction."
Not only have homes burned down and people died in the fires, but communities have also suffered from the effects. Multiple Jewish facilities have been burned down, including summer camps, synagogues, and a Jewish day school. Temple Adat Elohim in Thousand Oaks, Calif., Kehillat Israel Synagogue in Pacific Palisades, Calif., and Camp Hess Kramer all successfully removed their Torahs from the sites before having to evacuate the facilities.
The Ilan Ramon Day School in Agoura, Calif. was in the midst of the Woolsey Fire. The school's computer lab, administration building, and one of the bathrooms were all burned in the fire. The head of school, Yuri Hronsky put out a  statement on the school's Facebook saying "[these facilities] do not make our school what it has been, what it is and what it will continue to be. Our school is about heart and soul, not about brick and mortar." Since then, the school has launched a GoFundMe page with a goal to raise $250,000 to "Help Rebuild Ilan Ramon Day School."
Multiple Jewish summer camps throughout California have also been destroyed, including the Shalom Institute and Camp Hess Kramer, both in Malibu, Calif. Camp Hess Kramer posted on Facebook saying "despite these losses we know in our hearts that camp is what happens inside and around buildings, not the buildings themselves. Fire cannot destroy memories. Camp has always been about community, friendship and Torah; about the who and the what, not the where."
Both the Ilan Ramon Day School and Camp Hess Kramer are still in the midst of figuring out their plans to rebuild. The damage from the fire at Camp Hess Kramer has not been fully assessed yet, so they do not yet know what they must do to rebuild.
The Jewish Federation of Greater Los Angeles has requested support from all who can to help the Jewish Communities that were affected. They put out a statement that says: "In order to support our community's institutions and individuals and families during this difficult time, The Jewish Federation has created a directed fund that allows us to all come together to give back to those organizations that have given us all so much and support those who need our help. 100% of your gift will go directly to those who need it."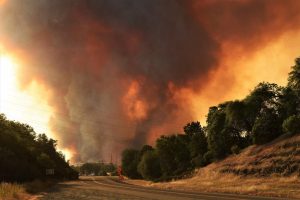 To help the Jewish communities in California, donations can be made to the Jewish Federation of Greater Los Angeles' wildfire relief fund. This can benefit the Ilan Ramon Day school, summer camps, and individuals affected by the fire. Any donation made can help to rebuild the community that was destroyed through these devastating fires.