You're Late
Austin Klinock
December 14, 2018
Slider image by Austin Klinock.
The HBHA schedule is an ever changing enigma of inconsistency and contradiction, and its inner workings are incomprehensibly intricate. This article serves as a guide to help the uninformed understand its complex nature and outline the actions which one must take to compensate for its… eccentricities.
The first topic we shall cover in this guide shall be extended prayers. Extended prayers is a procedure which is put into action in the event of:
Rosh Chodesh and other holidays, where it is necessary to say additional prayers

A Bar/Bat Mitzvah, where it is necessary for the service to progress at a sloth-like pace for the purpose of… well they just take a while.
In such events, the classes in the first half of the day are shortened, and everything goes back to normal after lunch.
But there are rare occasions when both a Bar/Bat Mitzvah and Rosh Chodesh occur on the same day. Such an occurrence is referred to as: "excessively extended prayers." When it becomes necessary for this course of action to be put in place, all classes (Tuesday-Thursday) are shortened to 20 minute periods and pushed back by four proportional hours, while mentoring is lengthened to an hour and 50 minutes. Lunch is held after school in Talmid. If this were to take place on a Monday or Friday, students are to stay home from school, recite verses from the HBHA Dress Code, and prepare a dvar over them for the following day.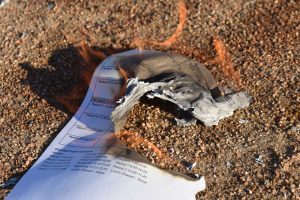 Now, let's talk about mentoring. Mentoring is arguably the most important part of the school day from an academic standpoint. During these 50 minutes, students learn about the most important aspects of life including, but not limited to: how much money the state of Kansas makes annually on utility taxes, at what length a skirt changes from "modest" to "blasphemous," how school is more of a benevolent dictatorship than a democracy, and how we are therefore not guaranteed unlimited rights (such as freedom of speech, for example). But perhaps mentoring's most crucial function is to extend far beyond its allotted time period and viciously cut into lunch, often for the purpose of explaining an upcoming schedule change.
In an attempt to fulfil her purpose of maintaining order in the halls of HBHA, Jean Bratt, Middle & Upper School Executive Assistant and resident miracle worker, goes out of her way to send out a weekly calendar to the students. Every week, Bratt meticulously combs through the plethora of schedule adjustments for the following week and compiles them into a concise email for students to read.
"When they first asked me to do it I was like, 'Ugh, more work!' But I like that kids know what's going on and I think its a real thing, and I hope you pay attention to it." Though this act is both kind and thoughtful, it is overlooked by the majority of HBHA students (many of whom being completely unaware of its existence). To this, Bratt explained that "it's because you're stupid, that's why."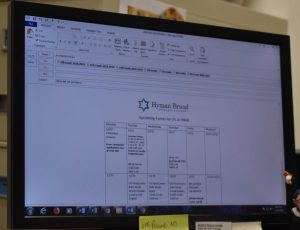 It was at this time that Cody Welton, HBHA Science Department Chair, spontaneously manifested to offer the following insight: "When the high schoolers did the dreidel spinning thing downstairs, were the instructions to use the M&Ms as your betting material?" Immediately after making this remark, Welton became enveloped in a ray of supernatural light, and with his right arm extended towards the sky, as if the entire world rested upon his palm, he vanished into oblivion. Bratt then looked me directly in the eyes, and with a despondent tone she said,  "I'd like some M&Ms."
In addition to her weekly email, Bratt also makes an effort to remind students to turn in their community service hours in a manner that is both certuous and understanding… at least the first time around, that is. As Bratt put it: "I hate it! HATE. IT. Why are you so irresponsible? It's not like you don't have enough time to do it, and you're going to come crying to me in May… you're being stupid… and lazy!" Needless to say, Jean Bratt may be the only person at HBHA who has even the faintest understanding of the schedule, though in spite of her stentorian voice, her reminders go largely unheard.
To close, I would like to leave you with a few quick reminders:
Regardless of what you may have been told, there is no such thing as a ten minute break. It's just not a thing.

Snow day announcements are made no earlier than 1:30 am the night before and are posted exclusively on HBHA's Myspace page .

The relatively new analog atomic clocks all display different times (none of which are correct).

The bells do in fact go off at the proper intervals, but they run in accordance to a different time zone.
And most importantly…
Never… EVER be late to Meltz's class.