Mr. Clauer is Actually Superman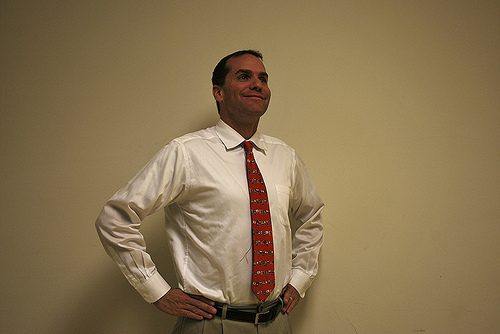 Jacob Margolies
November 24, 2013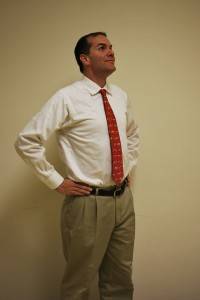 HBHA Upper School Principal and College Guidance Director Todd Clauer looking suspiciously heroic in the halls. 
It's a bird! It's a plane! No, it's Mr. Clauer! Upper School Principal and College Guidance Director, Todd Clauer, has a reputation for both superior intellectual and athletic abilities, earning him the nickname Superman. However, this may be more than just a nickname. Clauer does possess many of the superhuman abilities with which the legendary "Man of Steel" prided himself. Additionally, Clauer has never given any credence to this allegation, thus generating suspicion that he wants to protect his identity.
Two of Superman's powers were extraordinary speed and breath. He allegedly had the ability to  "inhale and exhale huge volumes of air with great force" and was deemed "faster than a speeding bullet." Here is where Clauer's disguise begins to fall apart. He is notorious for entering all sorts of brutal athletic events, including triathlons and marathons. Clauer even teaches a triathlon winterim every year at Hyman Brand Hebrew Academy, which he almost always wins. "Mr. Clauer's ability to travel through both land and water is truly supernatural," said senior Jacob Pellegrino, last year's second place winner. "There is no way he comes from this planet. His ability to transition from station to station is uncanny and as the second place finisher who spent the previous 365 days training for the world renowned HBHA triathlon, I can say I was a distant second."
Superman is also credited with having had the faculties of superhuman intelligence and eidetic memory. Clauer has been known for his exceptional mathematical skills. He has taught physics, statistics and applied college mathematics at HBHA for several years. In addition, Clauer took the SAT in middle school, an event which rarely occurred at the time. One of Clauer's current statistics students, senior Ricardo Zepeda, said, "Mr. Clauer understands math so well to the point that he teaches extremely complex ideas in a way that is easy to understand."
Clauer also serves as the College Guidance Director, a role in which he frequently reveals his unparalleled and intimate understanding of several hundred colleges. He is able to analyze the kind of person a student is and quickly identify colleges that would fit well for the student. "When I started college guidance, I had no idea where I wanted to go or even what I was looking for in a college," said Kara Kahn, senior. "By the end of junior year, Mr. Clauer had already helped me narrow my options down significantly. His expansive knowledge of American universities is honestly out of  this world."
Lastly, Clauer and Superman both have the mutual power of invulnerability. Like Superman, Clauer seems to be immune to human ailments and injury. Despite all of the athletic contests in which he generally participates, Clauer never sustains injury. Similarly, he is rarely absent from school. On the rare occasion that he is not to be found, students are never surprised to learn that he was preoccupied with other business or field trips.
Taking these undeniable facts into account, this reporter would declare it reasonable to assume Clauer to be the Last Son of Krypton. Clauer is further implicated by his X-ray and telescopic vision, which enable him to spot and recognize dress code infractions in tiny fractions of a second. All in all, HBHA is lucky to have a principal like Clauer who is capable in so many ways, even if one is in the minority that still maintains Clauer to be a mere human.