The Freedom Everyone Deserves: "The Last, the Very Last Butterfly"
A few weeks ago, I, along with the rest of the Upper School, travelled to the Notre Dame de Sion School, in Kansas City, Mo. Together with the Catholic students of Sion and the Jewish students of HBHA, I experienced "The Last, the Very Last Butterfly," a piece which presents one of the darkest times in the history of humankind through the eyes of the children of Terezin concentration camp located in what is now the Czech Republic.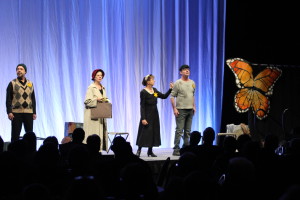 I don't think that to call "…Butterfly" a play would do it justice. This was a creation of not only the playwright, Ruth Fost, but of the children who passed through Terezin from 1942-1945. Originally, the piece was a collection of artwork–poems, writings, drawings–created by children who were secretly receiving schooling by a brave teacher, Friedl Dicker Brandeis. She saw the opportunity for these children to have an artistic outlet in such chaotic times to be of utmost importance. Looking through the artwork, images of butterflies are ubiquitous. There are hopeful butterflies, colorful butterflies, butterflies fluttering from flower to flower, and butterflies trapped behind barbed wire.
Ruth Fost transforms these works of art into an experience accentuated with sound effects, visual media, and music. The barking of SS dogs contrasted with the music of "The Butterfly," a poem written by Pavel Friedman, a young man who passed through Terezin, is both touching and chilling.
Being in a room full of students, while learning the story of a group of kids and one brave teacher who risked their lives to in order to receive an education, was especially significant to me. I feel so blessed to have the freedom to go to school every day, to learn history and math and art. Today, freedom still is not a guarantee for everyone. There are several countries that deprive girls of an equal opportunity to education. Also, there is still a strikingly large number of people who are enslaved (20-36 million), even though slavery is officially illegal in every country. There are 10 countries where homosexuality is punishable by death and dozens where it is illegal. People all over the world are denied their basic human rights every day. Living in the land of the free, it can be easy for me to forget just how free I really am.
Watching "…Butterfly" reminded me of my roots, and of why I am here today. In 1933, my great grandparents Kate and Moses Eisemann could sense the growing anti-semitism in their hometown of Frankfurt, Germany. Much of my family was already in America, and with their help, my great grandparents fled, joining them there. Kate and Moses are the parents of my grandmother, Blanche Sosland, and her sister, Ruth Fost. They gave my entire family a precious legacy of freedom. Ruth compares this freedom to a butterfly. Like a butterfly, the legacy of freedom is "beautiful, colorful, but fragile. It must be guarded, protected and carefully nurtured." Ruth's intent in creating "…Butterfly" was to give young people an "opportunity to think about each of our roles in protecting and nurturing the gift of freedom for ourselves and future generations" (pushcartplayers.org).
Seeing how Ruth took her gift of freedom and turned it into an opportunity to remind others of the responsibility to ensure that everyone deserves the same freedom has moved me deeply. In order to impede the progress of further injustice in our future, it is imperative that people–younger people, especially–continue with a dialogue that can advance our development of moral thought and action.