What's all the Racket about Varsity Girls Tennis?
Kayla Goldenberg
October 12, 2015
Since 2010, Hyman Brand Hebrew Academy (HBHA) has had only 3 varsity sports: soccer, basketball, and cross country. As HBHA celebrates it's 50th birthday, it is the perfect time to add a new varsity sport to the roster. HBHA is now including varsity tennis in the lineup.
For the past five years, tennis has been a sport at HBHA, but participants did not have the opportunity to earn a varsity letter. Why did it take five years for tennis to become a "real sport"? For tennis to meet varsity requirements, there must be five high school students on the team. This year is the first year that this requirement has been fulfilled, so tennis has become a varsity sport. The high school team consists of sophomores Molly Kavanaugh, Amanda Sokol, and Mia Velasquez, junior Leah Sosland, and senior Gabi Cabell.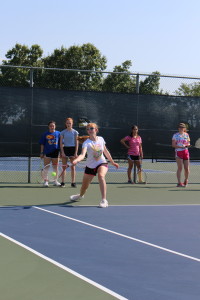 The tennis team is coached by Todd Perkins. Perkins works with the five high school girls and three middle school girls every Monday and Wednesday afternoon. He also coaches tennis and and gives lessons at the Jewish Community Center (JCC). Practices are described as "fun and super chill" by sophomore Amanda Sokol.
"I'm all about improving and always looking for an opportunity to work on my tennis skills," says Sokol. "I had played tennis for around four or five years, and I'm really happy that I get to play again." In any sport at HBHA, a student can go in knowing nothing about the sport and still have fun learning to play the game. "I really enjoy [playing] tennis," says sophomore Molly Kavanaugh. "I'm absolutely excited that tennis has become a varsity sport. And hopefully, the team [will] keep growing and [will] become a popular sport at HBHA". Molly started playing tennis three years ago, and she went into the sport with a fresh mind and ready to learn.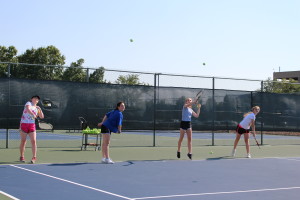 Now that HBHA has adopted a new sport, what will be their next move? Hockey, softball, ultimate frisbee? The options are endless! With the addition of varsity tennis, HBHA has opened up student athletes' eyes to see that if you really love a sport and create a team, HBHA will cater to your passion.