Basketball Fever
Julia Paul
December 8, 2015
The 2015-2016 Hyman Brand Hebrew Academy (HBHA) basketball season began with a school wide pep rally followed by the first girls' and boys' varsity games of the season.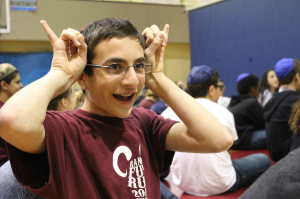 As the weather starts to cool down, HBHA students begin their preparation for the basketball season. Rams basketball fever has hit the halls of HBHA once again and the anticipation for the rest of this basketball season is growing each day. It is a new year, with new players, new drills, and even new socks. The core aspects of the HBHA basketball program have endured throughout the years; hard work, dedication, and determination are continuously demonstrated by HBHA athletes. It's basketball time!
To start off this year's basketball season, the HBHA high school Student Council arranged a pep rally for students in grades four through 12. If the HBHA student body was not already excited enough, they definitely were after this. At the pep rally, students learned new HBHA cheers, met the lineup of players, and played games with their shabbat families including HBHA trivia and rap battles.
Nov. 24 marked the first game of the 2015-2016 Rams basketball season. Rams fans proved that they are the best fans with cheers and applause. Sophomore Eliana Saidel admits, "having fans at our games motivates us to work harder." The girls' varsity basketball team, coached by Perijo Maddox, took the win against Alta Vista Charter School with an ending score of 41-23. "I'm really impressed with the skill level of the team starting the year," says senior co-captain Adena Goldberg, "we came ready to win." Winning the first game by over 20 points was a huge confidence boost for the girls' varsity players. Goldberg adds, "I look forward to winning the rest of the games by at least 20 points."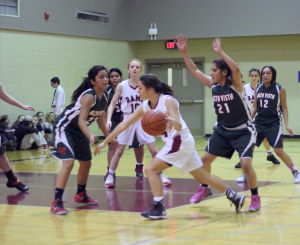 The boys' varsity basketball team, coached by Eric Stamps, has been working tremendously hard for the past month to prepare for the basketball season. Attending early morning practices every day of the week shows the true devotion of the boys' varsity players. Senior co-captain Samuel Matsil says, "we are working really hard in practice and we are bonding as a team." Although the boys could not pull out a win at their first game against Alta Vista, their hard work was absolutely exemplified with a final score of 81-62. Matsil exclaims, "we went out there and worked hard." There is no telling what is in store for the rest of the season. Matsil reveals that, "[they] go into each game with a fighting mentality trying to pull out a victory for the Rams."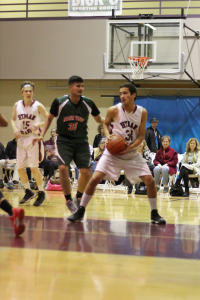 Rams fans are excited and ready for more games. The players continue to perform, show their commitment, and give their best effort in every practice, scrimmage, and game.