It is five o'clock on a Thursday night, and the Jewish Community Center gym in Overland Park, Kan., is steadily filling up with students, parents, grandparents, and friends. Enthusiastic cheers echo throughout the room, and the scent of buttery popcorn lingers in the air. It is game time, and Hyman Brand Hebrew Academy (HBHA) Rams fans could not be more excited to watch their favorite varsity basketball teams.
Although basketball season has hardly begun, the Boys and Girls varsity teams have more than twenty games altogether under their belts, at least half of which were played out of town. Both teams traveled to the Beth Tfiloh Weiner Tournament in Baltimore, Md. in early December 2014. While HBHA did not bring home either championship title, players on both teams found the tournament to be a lot of fun. Junior Adena Goldberg especially enjoyed this tournament so much more than past tournaments because the schedule was packed with games.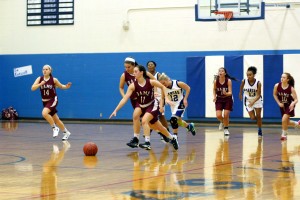 "We played seven games over the course of the week," said Goldberg. "By the end, we were starting to get tired, but we never gave up. Having tournament games as our first few games of the season was challenging because we didn't exactly know what to expect, but we improved a lot that week. Weiner [tournament] definitely set us up for a great season."
Back at home, the Rams and Lady Rams have been working hard. With practices five days a week, even during winter break, both teams are turning their focus toward making the rest of the season the best it can be. Each team has been faced with a unique set of challenges this year, but these trials have not stopped them from winning games. According to Junior Zach Kriesler, "the tough times have made the team stronger."
"We lost a lot of key players last year, but we've picked up a couple new guys," commented Kriesler. "Everyone has really improved a lot and it's been a successful season so far."
The Rams are not the only ones who have improved this season. The Lady Rams have certainly seen some change since the season began. Assistant Coach Shira Levine has noticed "a lot more confidence" from the girls varsity team.
"I didn't really know what to expect coming in," said Levine. "After seeing the girls from the beginning, there's been more focus. I'm excited for the rest of the season; we can only go up from here."
With over a month left of the season, both teams still have plenty of games left on their schedules. Most important of those games are in the Great Plains Athletic Conference (GPAC) Tournament in February. Currently, HBHA basketball players are spending the remainder of the season winning games and practicing hard to prepare for the tournament, and hopefully, bring home a trophy or two.
Go Rams!